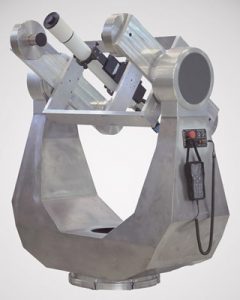 The 10Micron AZ DDS (Direct Drive System) offers professional robotic telescope mounts in an alt-azimuth fork configuration that incorporates a software-integrated de-rotator/focuser.
10Micron has had extensive experience with robotic astronomical mounts. The AZ DDS was developed specifically for professional and research applications that require maximum quality at upmost affordability. The AZ DDS integrates the latest technologies and technical advances in mechanical, electrical, electronics, software and design fields – every feature and component was studied in order to achieve the optimum level of efficiency that has always characterized 10Micron products. 10Micron has even integrated some special features in order to ensure the safety of both the instrument and the operator.
Image 1 presents one of the first AZ DDS prototypes, which includes a special bracket allows the operator to vary the payload and its center of gravity to test the mount's behavior under varying load and balance conditions. The mount's standard configuration is designed to accept Cassegrain telescopes (standard version), but 10Micron can supply the correct flanges to accommodate many custom configurations, as well.
The AZ5000 is designed to accommodate a 24-inch to 26-inch optics – the optimum aperture for many applications. 10Micron can also supply a complete telescope configuration, if desired. A Nasmyth-focus configuration is available as option. Image 2 shows the AZ5000 with a Planewave 24-inch CDK installed. Image 3 details the AZ DDS's integrated de-rotator/focuser.
The AZ DDS is of a direct-drive design that incorporates on-axis, high-resolution Renishaw absolute encoders. There are no worm or transmission gears, thus there is also zero backlash.
The mount weighs 300 kilograms (661 pounds) and is capable of payloads of up to 250 kilograms (551 pounds). Maximum slew speed is 30° per second and pointing accuracy is less than 5 arc-seconds rms. 10Micron reports average tracking accuracy of 1 arc-second is typical for 15-minute exposures.
The Nasmyth-focus ports are 100 mm in diameter and can accommodate a gross load of 30 kilograms (66 pounds). The de-rotator/focuser has a payload capacity of 25 kilograms (55 pounds).
The AZ DDS's integrated control electronics feature: (1) user-defined mount parking positions, (2) mount modeling with up to 100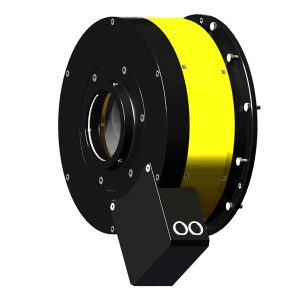 stars/points, (3) storage of multiple pointing models, (4) configurable tracking speed, (5) adjustable movement limits, (6) assisted balance adjustment, (7) direct dome control via RS-232, and (8) configurable atmospheric refraction compensation.
The keypad control is housed in a rugged metal case with backlit micro switches and a dimmable graphic display. All the functionality of the mount is available through the keypad … without requiring an external PC.
But of course, remote PC control is available via Ethernet, including updating of firmware and orbital elements for satellite tracking and minor planet objects. Remote PC control includes a virtual keypad control panel that replicates the familiar functionality of the physical keypad. The system also allows usage of any client software supporting the ASCOM standard via a its proprietary ASCOM driver or through the LX200-compatible protocol.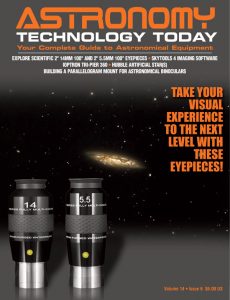 And to make it easier for you to get the most extensive telescope and amateur astronomy related news, articles and reviews that are only available in the magazine pages of Astronomy Technology Today, we are offering a 1 year subscription for only $6! Or, for an even better deal, we are offering 2 years for only $9. Click here to get these deals which only will be available for a very limited time. You can also check out a free sample issue here.