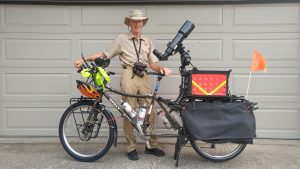 Lots of new people have been coming to our site to check out our 2017 Solar Eclipse content.
We thought it would be a great idea to offer a two-year subscription for a one-year price. You can check out the magazine by clicking the "sample issue" link above to see what you think or you can just click on our "subscribe" link to get two years for $12.
Not only do you get two years of current issues, you also get access to over 10 years of past issues. If it's about telescopes that you can use, it's in there. And there are tons of astro-imaging, how-to articles, ATM (amateur telescope making) articles and much more.
We hope you enjoy the eclipse! Our editor, Gary Parkerson, will be part of the live broadcast of the Weather Channel who will be live in Nashville, TN, the largest metropolitan area that will experience eclipse totality. Gary will have his mobile bicycle observatory set up and providing views of the Sun during the broadcast (Pedaling Astronomer Project).  Coverage will start early in the morning and continue throughout the day.