The Altair Hypercam 294C Color Camera has a thermoelectric cooling system (TEC) for extremely low noise imaging and offers a 11.6mp Sony IMX294 4/3rds sensor (23.2mm diagonal) capable of 14bit depth. It is Back Side Illuminated (BSI) with both STARVIS and Exmor-R ratings, making it ideal for low light imaging applications such as astronomy.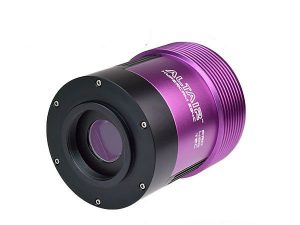 The Hypercam amp glow reduction for easier image capture and processing, as well as an impressive 66ke- full well capacity. A sealed chamber system with heated optical window enables a two year frost free guarantee.
Due to its low read noise, the Altair Hypercam 294C Color Camera is suitable for both Deepsky and solar system imaging with ROI, as well as "frame stacking and averaging" for video astronomy. The TEC system can be switched off for fast exposure solar system imaging.
As the Altair team notes, "This sensor outperforms the Panasonic sensor used in our Altair 1600C Camera by such a wide margin, we have stopped manufacturing them. It also outperforms similar CCD sensors in both read noise and sensitivity."
Included with the Altair Hypercam 294C Color Camera purchase is one year of a SharpCap PRO License which provides the ability for ultra-accurate polar alignment assist, Deepsky CMOS exposure time optimization assist, live stacking for EAA/Video astronomy, live darkframe and flat frame subtration.
According to the Altair team, "Easier than a DSLR and no "astro modding" required: Unlike a DSLR, there's no need to risk modifying your camera to capture detail in red hydrogen wavelengths, because it has no "red blocking filter" in the way. Hypercam is much easier to use and focus than a DSLR, thanks to the live preview mode which shows uncompressed video at full resolution. You can see a tiny star-point clearly in real-time, because there is no video compression like with a DSLR video stream. There are no clumsy power connectors which drop out easily, no firmware to fight with your software, no mirror to lock up, and a "true" uncompressed RAW mode output. You get exactly what this Sony sensor "sees" from without alterations."
The Sony IMX294 CMOS sensor has very low read noise at approx. 2e, wide dynamic range. Being Back Illuminated, it has high-sensitivity, low dark current, no smear, and zero blooming. BSI technology moves the sensor circuitry behind the pixel where it does not block light, resulting in higher quantum efficiency than a CCD sensor.
HGC  can be switched on in the AltairCapture software, allowing read noise to stay below 2e but preserving dynamic range of 13 stops.
With a pixel size of 4.63 microns, and an active imaging area of 17.47×12.86mm, the Altair Hypercam 294C Color Camera performs well with telescopes of around 750mm imaging focal length or more. It will tend to under-sample at shorter focal lengths (the Hypercam 183M or 26M series cameras are suggested for shorter focal lengths). In particular the Hypercam 294C is recommended for Altair Wave Series 115mm, 130mm and 152mm refractors, 200mm and larger Newtonians, and Schmidt Cassagrains (SCTs) such as the Meade and Celestron ranges, Celestron Hyperstar and RASA scopes. Basically telescopes with a larger spot size are more suitable for the 294C sensor pixel size. For lunar and planetary imaging, at long focal lengths, the 294C is quite a formidable solar system camera.
The low read noise lets you stack shorter exposures to take advantage of the low read noise, reducing atmospheric aberration, mount tracking errors and wind vibration. The more frames you stack, the smoother the image becomes, and the higher the cumulative dynamic range. In this way, long cumulative exposure times of many hours can be achieved with a modest mount. The result is a smoother, sharper image with more detail.
The Altair Hypercam 294C Color Camera not only performs for Deepsky imaging – it's also great for Video Astronomy or "EAA" Electronically Assisted Astronomy. The resolution, high sensitivity, and amp glow reduction technology are well suited to this task. You can use the Live Stacking features in the AltairCapture software or SharpCap PRO. All-sky time-lapse imaging or video is easy with a DSLR lens and optional Hypercam Lens Adapters.
The Hypercam sensor ADC can deliver 12bit RAW files, which are stretched to 16 bit. In RAW mode analog (on-sensor) gain is used for ultra-low read-noise images. Because the output is completely "RAW" in analog mode, there is no partial "downstream digital" processing like with a DSLR or some of the cameras of similar design, resulting in true RAW mode for the best Deepsky performance. True RAW mode allows greater flexibility and consistency in processing large stacks of frames for Deepsky "lucky" imaging, where the camera's low read noise can be taken advantage of. Either .FITS image or .SER video files are captured in their purest form for later processing in your software of choice. For Video Astronomy / EAA use, you can select RGB Mode and capture .AVI files, or just view the screen with full access to white balance, gamma, contrast and histogram controls, just like any other camera.
The Altair Hypercam 294C Color Camera offers USB3.0 speed and USB2.0 compatibility. USB3.0 gives much faster transfer speeds than USB2.0 cameras, however, the Hypercam is compatible with USB2.0.
The AltairCapture software can be downloaded from www.altairastro.help. AltairCapture is a stable 64 bit Windows application, which allows full control of the camera in high speed video or still mode, and supports all the file formats useful for astro imaging or scientific imaging in 16bit, 12bit or 8bit mode. The popular PHD Guiding, SharpCap PRO, and Deepsky imaging software APT and NINA are also fully supported. An ASCOM driver is available for other software, downloaded at www.altaircameras.com where you can also get ASCOM driver updates. The installation process is simple and straightforward, starting with AltairCapture which contains the driver base.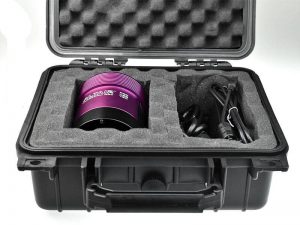 Altair Astro has worked closely with SharpCap developer Robin Glover since 2015, to fully integrate their Altair cameras with SharpCap at a basic level. Now, SharpCap PRO enables even more features with this camera, such as software driven polar alignment, live flat frame subtraction and live dark-frame subtraction. The fast, accurate polar alignment feature in SharpCap PRO is a life-saver for imaging, minimizing setup time. And you can use the Smart Histogram tool in SharpCap PRO to determine the optimum exposure time for your target and sky conditions, taking the guesswork out of imaging.
The Hypercam has an internal thermoelectric cooling system connected directly to the sensor. The temperature can be set and maintained at a chosen level down to -40C below ambient (though there is no real benefit in going below -15C). Cooling is especially desirable for long exposure imaging to reduce thermal noise which accumulates during long exposures, and to make calibration of dark-frames the flat-frames more accurate. The result is visibly reduced noise per frame, easier processing, and less sub-frames required to attain a smooth noise-free image, compared to a non-cooled camera.
The AltairCapture software interface supports most European languages including English, German, French, Indonesian, Japanese, Korean, Polish, Russian, Chinese, Spanish, Thai, and Turkish.
The camera can be fully controlled in AltairCapture and SharpCap to output uncompressed .AVI and .SER video files for solar system imaging, as well as all common still image formats such as .JPEG (compressed or uncompressed) .PNG .TIFF .BMP, and .FITS up to 16bit depth for Deepsky imaging. The Hypercam 294C supports 8bit or 14bit output. The 14bit output mode can be used for deep sky imaging with less frames needing to be stacked and a wider pixel intensity range than a 12bit camera.
A highlight of features of the Altair Hypercam 294C Color Camera include:
– 11.6mp resolution SONY STARVIS Exmor R Back Side Illuminated IMX294 CMOS sensor with approx. 90% QE.
– 4128×2808 active 4.63 micron pixels in a 16.05mm x 12.61mm array. Physical sensor size, 4/3rds" 23.1mm diagonal.
– Extremely low read noise of about 1.5-1.6e in HCG mode for very smooth image quality and shorter exposures required to show Deepsky objects.
– Amp glow reduction technology reduces amp glow, reduces noise, and increases contrast.
– High Dynamic Range with 14 bit ADC to 16bit output .FITS files in RAW mode, for beautiful Deepsky images.
– Up to 17.5 Frames per second video in full 20mp resolution. (You will need a computer with high USB bandwidth to achieve these speeds, preferably with Intel or Via hardware USB controller on the motherboard).
– Amp glow reduction.
– TEC Cooling system – cools down to -40C below ambient.
– Temperature sensor, with data available in real time, temperature written to .FITS files for easier processing.
– 12v Power supply
– ROI (Region of Interest) for cropped higher speed solar, lunar and planetary imaging.
– Binning supported.
Included in the box:
– Camera body with internal Thermoelectric cooling system and front female M42x0.75mm T-Thread interface (17.5mm backfocus).
– A spare, rechargeable desiccant cartridge is included for servicing (Note: This should not be replaced unless confirmed by your dealer).
– 1.8m High-speed USB3.0 cable.
– 2″ OD Nosepiece with standard 2″ M48x0.75mm filter thread on the front. (code ALTAIRH-2IN) to accept standard astro filters.
– Built-in UV-IR Blocking Filter, AR coatings. (Removable for sensor cleaning).
– Plastic screw-on dust cap.
– Armored sealed case with foam insert.
– 110v/240v Power supply for camera (specify US, UK or EU plug when ordering).
Sensor & performance specifications:
– SONY Exmor R BSI IMX294 Color sensor
– Sensor Size: 4/3″ diagonal (23.2mm)
– Exposure duration shortest/longest: 0.1 ms (0.00014 secs) / 5 secs (Video Mode)
– 0.1 ms (0.0001 secs) / 1000 secs (Trigger Mode)
– Bit depth: 8bit & 14bit mode switchable
– Pixel size microns: 4.63 x 4.63 um
– Resolution in pixels: 4128×2808 (11.6mp)
– Recording System: Still Picture and Video
– Region of Interest (ROI) support: Available
– Approx. Max frame rates (assuming computer Bus operating at full bandwidth): 4128×2808  35FPS; 4096×2160  39FPS; 2048×1080  71FPS; 1360×720   97FPS; 640×480 ROI 63FPS; 320×240 ROI 63FPS.
– 14bit mode: Approx. 50% of above FPS.
– Sensor QE / Quantum Efficiency: Approx. 90%
– Readout: Progressive Scan
– Shutter: Electronic Rolling Shutter
Software & OS support:
– Drivers & AltairCapture software download (Windows only)
– Driver support: PHD2, AltairCapture, SharpCap
– AltairCapture OS support: Win 8/ 10 (32 & 64 bit) Windows 10 is recommended for best performance, with 2013 or later machine USB host controller v1.0 or later.
-ASCOM fully supported with drivers downloadable at www.altaircameras.com.
– SharpCap and APT (3rd party applications) are also fully supported with native drivers for seamless camera control.
– USB Port & Cable: 3.0 USB Cable, 1.8m cable (USB2.0 also supported).
Camera Format:
– Backfocus/Flange Distance: 17.5mm from front T2 flange excluding threads to sensor.
– Cooling: High Performance Thermo Electronic Cooling System.
– Camera body length: 98mm
– Camera body outer diameter: 85mm
– Weight grams: 580g
– Optical window: AR-coated UV/IR blocking filter 400-700nm wavelength Transmission
Back-focus & Adaptor compatibility:
– Optical Window is not removable for cleaning.
– Camera body thread: M42x0.75 T2 Female Thread.
– Astro filter thread adaptor: Included, 1.25″ OD and 2 OD (optional), Female thread.
– Sensor surface distance from flat end of CS-mount adaptor: 12.5 mm
Operating environment & power requirements:
– Power consumption: 1.4W (standby) 5V 280mA; 3.65W (running with Fan off); 7.2W (running with Fan on).
– Max operating temp: 50 °C
– Lowest operating temp: -10 °C
– Max operating humidity: 80 % RH
– Power source in Volts: 5V DC (via USB cable)
Windows PC OS and Hardware Requirements:
– Windows 10PRO 64bit OS Recommended
– Minimum CPU: Equal to i5 or Higher
– Minimum Memory: 8GB or More
– USB port: USB2.0 High-speed Port or USB3.0 High-speed Port (best performance).
Altair offers a 2 year manufacturer warranty against defects in materials and workmanship. There is also a 2 year "Frost Free" warranty against ice forming on the sensor (provided the sensor chamber seal is not breached). You can learn more about the Altair Hypercam 294C Color Camera here.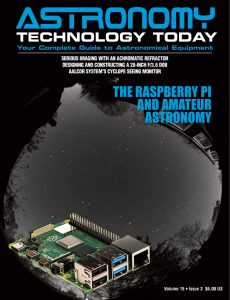 And to make it easier for you to get the most extensive news, articles and reviews that are only available in the magazine pages of Astronomy Technology Today, we are offering a 1 year magazine subscription for only $6! Or, for an even better deal, we are offering 2 years for only $9. Click here to get these deals which only will be available for a very limited time. You can also check out a free sample issue here.