The Altair Solar Wedge Version 2 offers improved cooling for longer use with larger refractors. The Altair Solar Wedge (Herschel Wedge) replaces the normal 2″ mirror or prism diagonal at the rear of a refractor telescope. The Solar Wedge transmits a greatly reduced, safe amount of light to the eyepiece or camera.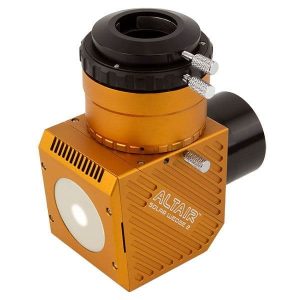 The Altair Solar Wedge is imaging ready and is safe for both visual use with an eyepiece or astrophotography with a CMOS camera such as the Altair GPCAM or Hypercam. The Altair Solar Wedge is "imaging ready" because you can fine-tune the image brightness without removing your camera to get the best exposure, gain and contrast setting for your CMOS camera.
Solar wedges can provide a sharper, higher-contrast image than traditional metallized solar film or front-mounted glass solar filters by eliminating all reflections between the filter and telescope lens. The result is a sharper, extremely high contrast view of sunspots and solar surface granulation.
The Altair Solar Wedge has special anti-reflection coatings on the internal polarizing filter and prism. A high specification prism gives the ultimate in sharpness and resolution for imaging and observing. The solar wedge is designed to be used only with refractors.
The Altair Solar Wedge Version 2 features include:
– Wide brightness adjustment range allows imaging and visual use.
– High quality, large prism.
– 115mm backfocus/optical path length enables use with most refractors.
– Anti Reflection (AR) coated prism and polariser.
– 46mm clear aperture.
– Quick, easy centering of the sun with glowing spot on rear diffuser.
– Is designed to stay cool thanks to rear energy diffuser.
– 2″ "Positive Lock" compression ring for fast accessory changes.
– Includes 2″-1.25″ adapter.
– Sturdy CNC machined casing to hold heavy binoviewers or a DSLR camera, filter wheel etc.
The Altair Solar Wedge directs energy into a special extra thick Polycrystalline Ceramic diffuser disc at the back of the Wedge. Air vents allow air circulation by convection. The Polycrystalline disc has the added benefit of acting like a "solar finder". The sun appears as a "ball of light" on the back of the disc. Simply move your telescope until the ball of light is in the center of the disc, and you are aligned with the sun.
The Altair Solar Wedge provides sufficient light for high-speed exposures needed to "freeze" air-motion for a sharp image. The Altair Solar Wedge has an AR coated internal polarizing filter, which lets you control the brightness of the image. Brightness can be increased or decreased by rotating the top assembly, then locking it in the desired position with a side thumbscrew.
Variable brightness is important both for visual and imaging use, to fine tune the ideal exposure time, or the ideal contrast levels at the eyepiece – especially when adding a color filter such as a green continuum filter for extra contrast. With the solar wedge in "bright" mode, exposure times as low as 2 milliseconds are possible with high-speed CMOS cameras.
You can learn more about the Altair Solar Wedge here.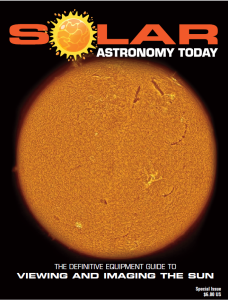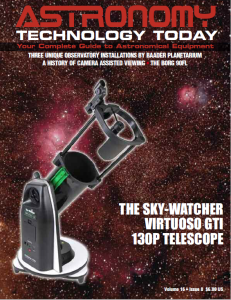 The sun is more active than its been in years! If you'd like to learn more about the technology behind solar observing, solar imaging and more, you can check out our free publication, "The Definitive Guide to Viewing and Imaging the Sun". You don't have to sign up or provide any information, simply click here and enjoy reading!
And if you want to learn more about telescopes and more products used in amateur astronomy you will enjoy the extensive news, articles and reviews that are only available in the magazine pages of Astronomy Technology Today. We are offering a 1 year magazine subscription for only $6! Or, for an even better deal, we are offering 2 years for only $9. Click here to get these deals which only will be available for a very limited time. You can also check out a free sample issue here.