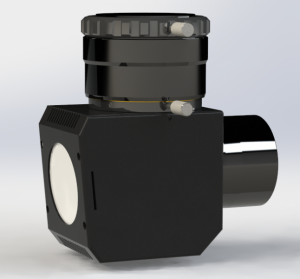 APM's new 2-inch Ceramic Safety Herschel Prism operates on the principle that only a small portion – approximately five percent – of the incident light is used for the actual observation. Herschel Prisms of the classic design guide the unused and incomparably larger, more energetic portion of light through the housing to form a focal point outside of the prism.
But even far behind that focal point, the light concentration remained very intense, so that caution had to be exercised to prevent an inexperienced observer from accidentally looking into that too-bright output light beam.
APM's refinement of the Herschel Prism incorporates a ceramic light trap, an integrated multicoated ND3 filter, plus a removable, multicoated polarizing filter, which refinement eliminates the danger of inadvertent observation of the output  beam. The result is a white-light system that is perfectly safe for both imaging and visual observation of the Sun. The inclusion of the 2-inch polarizing filter allows adjustment of image brightness by simply twisting the filter via a lever.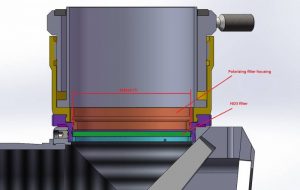 When viewing the 2017 Solar Eclipse, this system is not only safe, but also produces an image of higher quality than that produced by most front-mounted white-light solar filters, with greater sharpness and higher contrast which allows for viewing and imaging at higher magnifications.
The new Ceramic Safety Herschel Prism also features APM's Fast-Lock system for precise, automatic centering of inserted accessories to the optical axis. The device even ships in an included metal carry case with a die-cut foam insert that provides room for other accessories.
APM's new Ceramic Safety Herschel Prism is priced at €395, including VAT, or €331.93 for export. For more information, please visit www.apm-telescopes.de.
If you would like to learn more about viewing and image options for the 2017 Solar Eclipse, check out Astronomy Technology Today's The Definitive Equipment Guide to Viewing The 2017 Solar Eclipse, which covers a range of options people have to use technology to actively participate in the eclipse.
###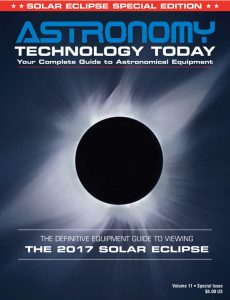 The Astronomy Technology Today editorial staff would like to take this opportunity to remind you of the availability of our Solar eclipse equipment guide – The Definitive Equipment Guide to the 2017 Solar Eclipse.  Our goal with the 40 page publication is to provide an easy-to-consume introduction to the technological options for viewing and imaging the Great Solar Eclipse. We cover the gamut of options available including building you own solar viewer, solar glasses, smart phones, DSLR cameras, using astronomy telescopes, solar telescopes, using binoculars, solar filters (including a DYI filter option), CCD astro cameras, astro video cameras, webcams and much more. You can view the guide on our website here – its free and there is no requirement to sign up to read the guide.