Astrel Instruments offers the AST16200B camera system which eliminates the need for a computer or smart device as it offers a built-in 1GHz microprocessor for stand-alone operation. The camera is based on 16-megapixal Monochrome or Color KAF-16200 CCD Sensor (class 2) and is equipped with an integrated 4 or 5 position Filter-Wheel.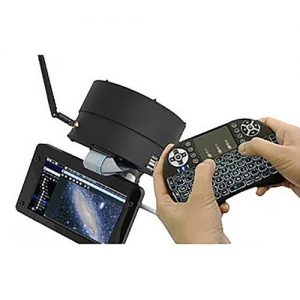 The unique Astrel Instruments on-board microprocessor offers PC like use with an operating system, graphic desktop, web access and applications that can be created, installed and removed. The system offers an available 5″ 800×480 touchscreen full color display (removable) and mini wireless keyboard/touchpad. It includes 16 GB (expandable up to 64 GB) internal storage plus external USB flash drives or hard drive as well as an integrated WiFi connection and Gbit Ethernet.
The camera offers an integrated suite of easy to use graphical applications which provide the ability to control photo sequences programming with filters management; temperature setting and monitoring; liveview with integrated focus mode; autoguiding with dithering; planetarium mount control, including plate solving; image reviewing and more.
The AST16200B camera can autonomously autoguide with many commercial USB autoguider cameras and can use planetarium applications to control the mount operations including alignment, GOTO and more for most commercially available mounts. Many other accessories such as motorized focusers, external filter wheels and more can be directly connected and managed autonomously by the camera.
The systems' wireless mode provides the ability to communicate with the camera through a WiFi connection established between a smart device or a PC. The connection uses remote desktop technology to send the camera display to the connected devices.
A stand-alone mode is made available with the optional 5″ LCD touch screen and mini wireless keyboard/touchpad. The removable display is connected to the camera body with a set of adjustable junctions to position it for a comfortable view. For those wishing to do so, the camera can also be used in a conventional mode through a PC connected via Ethernet cable.
The AST16200B camera system comes with software which has been developed to by the Astrel Instruments teams to ensure the cameras are easy and intuitive to use. This functionality includes:
– Liveview: The camera displays a bin 10 image, refreshing up to 1.5fps. With a few seconds exposure even very faint objects becomes visible, allowing precise framing.
– Focus: Enter the focus mode by selecting a star in the liveview, which is enlarged up to 8x. The app calculates and displays FWHM and profile with an up to 3fps refresh rate.
– Temperature Control: Select a setpoint and the minimum number of seconds/°C and start the PID algorithm that will keep the temperature constant within 0.1°C.
– Take Photos: Start your photo sequence defining for each filter, the number of frames, exposure time and binning of the sub-frames. It also sends dithering commands to the guider.
– Monitor: Follow the current sub-frame number in the sequence and info about the camera status. It can also preview the last frame or kill the sequence.
– Guider: Connect your autoguider to the camera and use this app, derived from Lin guider, for guiding your telescope. It features drift graph, statistics and dithering.
The powerful integrated microprocessor and large memory easily runs the Ubuntu operating system with hundreds of available applications, including many astrophotography related ones. In addition to the custom apps developed by Astrel Instruments, the camera includes several pre-installed astronomy applications including:
– KStars and Cartes du Ciel: Two planetarium apps that can control most mounts for alignment and GOTO operation.
– Ekos: An image planning and observatory control software using offline Astrometry.net for plate solving and INDI standard for equipment control.
– DS9: A powerful app for image review and analysis.
The AST16200B features an integrated filter wheel with 5 or 4 positions for 42mm or 2″ unmounted filters. The entire wheel can be easily swapped with another one if more than 4 or 5 filters are required.
For precision filter positioning, the camera features a set of spring loaded balls with corresponding holes for a very precise and repeatable filter positioning. When the correct alignment is reached, the ball enters the hole, elastically recovering any small positioning error.
The following integrated wheels are available:
4 positions: 2″ or 50mm round unmounted filters, 1 to 3mm thickness.
5 positions: Custom 42mm unmounted filters available from Astronomik.
The Astrel Instruments AST16200B series cameras feature a power consumption of only 2.5A @ 12V in fully operative state with 100% Peltier usage. In spite of this very low power consumption, an efficient 2 stage Peltier cooling system can lower the regulated CCD temperature by up to 40°C below ambient.
The sensor and the cooling chain are contained in a vacuum proof chamber. By using the included vacuum pump connected to the valve on the rear of the camera body, the air can be pumped out in less than a minute. This eliminates the possibility of frost forming inside the chamber and minimizes the convention of up and down heat transfer inside the chamber, optimizing the heat removal via the cold finger and avoiding cooling of the optical window that could lead to fogging.
Every camera is tested to maintain a proper vacuum level for at least 3 days (most cameras can hold the vacuum for several weeks). For customers running remote observatories, it is possible to fill the chamber with inert gas like Argon or Krypton, which will stay in the camera for months. The vacuum level can be controlled through the manometer incorporated in the vacuum pump.
The camera system includes:
– Suitcase with protective foam for camera and accessories
– AST16200B mono or color camera body with WiFi antenna
– Vacuum pump with incorporated pressure gauge, tube, and joint
– Ethernet cable
– Battery power cable: power cable extension with car lighter plug
– Open-Source Camera Processor Code available to the user to experiment ideas and specific SW application
– 2 high speed USB ports, TX/RX serial port, I2C, SPI, +3.3V, +5V, +12V DC output power supplies
– User configurable I/O lines to implement triggers, alarms, custom interfaces​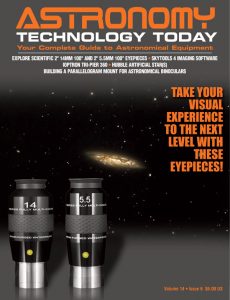 And to make it easier for you to get the most extensive telescope and amateur astronomy related news, articles and reviews that are only available in the magazine pages of Astronomy Technology Today, we are offering a 1 year subscription for only $6! Or, for an even better deal, we are offering 2 years for only $9. Click here to get these deals which only will be available for a very limited time. You can also check out a free sample issue here.