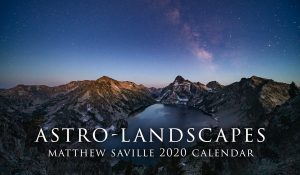 Matthew Saville hosts the Astro-Landscapes website which offers nightscape, landscape, timelapse, and adventure travel photography content and tutorials.
He has compiled the 2020 Astro-Landscapes Photo Calendar which offers images he has compiled to create a "panoramic landscape adventure photography calendar."
The 2020 calendar is 7×12″ in size. A limited run of 200 calendars were printed and the first 100 are signed and numbered.
Here are Matthew's thoughts on creating the calendar:
This is no ordinary landscape photo calendar. I had another ambitious goal for my next photo calendar: I've annotated the calendar days themselves with a few of my favorite types of landscape photography opportunities, such as a moonrise at sunset or moonset at sunrise, or nights when photographing the Milky Way could be optimal during a new or low crescent moon.
Now, each month you'll not only be able to enjoy another photo from somewhere in the beautiful American West, but you'll also be able to quickly glance at a few great shooting opportunities every week!
I've loved panoramic photography ever since I first picked up a camera about 20 years ago. I've always enjoyed creating "extreme" panoramic images, however, when I decided that I wanted my next photo calendar to be a panoramic calendar, I realized that most of my existing panoramic images simply would not work well in the desired format.
So, I made some compromises on my goals for the perfect aspect ratio, (7×12″) and I set off on many wilderness adventures to capture more images. Many of my adventures were centered around a singular photographic goal, and yet the images which found their way into this calendar turned out to be almost entirely the unexpected moments of serendipity and breathtaking light which simply cannot be predicted a year in advance.
For this reason, I decided to add not just helpful information about photo opportunities, but also a brief story behind each photo to help set the scene and give a brief glimpse into the moment itself. I am currently writing a book containing many more of these adventure stories, which showcase such authentic moments in the wilderness, and hopefully encourage other photographers to seek out the beautiful opportunities that nature has to offer.
You can order the Astro-Landscapes calendar on Mathew's website here (helpful advice is to scroll down the page just a bit to get to the calendar order link).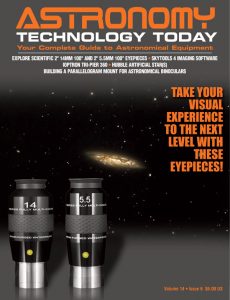 And to make it easier for you to get the most extensive telescope and amateur astronomy related news, articles and reviews that are only available in the magazine pages of Astronomy Technology Today, we are offering a 1 year subscription for only $6! Or, for an even better deal, we are offering 2 years for only $9. Click here to get these deals which only will be available for a very limited time. You can also check out a free sample issue here.