Astro-Physics Dovetail Plate includes the 15-inch Vixen-style Dovetail Plate

The V-style Dovetail has taken a major step forward: Astro-Physics is now offering a 15-inch Vixen-style Dovetail Plate (SBV15 – $58US). This is no run-of-the-mill V-style plate; this Astro-Physics Dovetail Plate is a robust, wide plate that allows attaching our scope rings using the Astro-Physics 2.362-inch (60 mm) side-to-side hole spacing (a spacing distance also used by several other manufacturers). Additionally, central slots offer attachment options to virtually all needs.
The plate hole pattern also incorporates Astro-Physics' 6.3-inch and 13.75-inch front-to-back spacing for scope rings. The 6.3-inch spacing is repeated to allow rings to be mounted forward or backward of center to facilitate balancing front- or back-heavy scopes. The Astro-Physics Dovetail Plate underside has been machined to reduce weight while maintaining strength.
10-inch Dovetail Saddle for D-Style and V-Style Dovetail Plates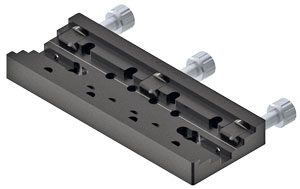 Naturally, a dovetail plate can only be as strong as the saddle that secures it, thus Astro-Physics' new 10-inch Dual-style Saddle Plate (DOVEDV10 – $190US). Both V-style and D-style plates are rigidly secured via three precision-machined clamps that can be locked down by Allen key, though a hand tightening will lock your heaviest load in place.
This 10-inch Dual-style Saddle Plate fills the need of customers who have multiple scopes. Often, the smaller scopes are outfitted with Vixen V-style dovetail plates; whereas, the larger scopes have the more-stable Losmandy D-style plates. Astro-Physics' DOVEDV10 is the perfect solution as the best of both worlds. It is a very robust dovetail saddle that will securely attach all your scopes to the mount.
The saddle is a three-clamp design, which provides the strongest possible lock for both style plates. Using all three clamps will provide extra security, while using one of the end clamps along with the center clamp will allow shorter dovetail plates to be secured.
The saddle has the convenience of the Astro-Physics tilt-in feature applicable to both style plates. This tilt-in feature allows scopes to be quickly positioned close to balance without the hassle of sliding a scope's dovetail in from the end of the saddle. This feature will be greatly appreciated the next time you are struggling with a heavy scope.
The clamping blocks grip your dovetail plate firmly. Springs keep the blocks in an open position, until you tighten the knobs. The unique design of the clamping blocks ensures that they remain properly aligned with no need for additional guide pins and the brass washers on the knobs allow firm tightening without binding.
This saddle is primarily designed for use with Astro-Physics' 400, 600E and Mach1 mounts. It can also be used with its 900 and 1100 mounts, when smaller scopes are used. It has additional attachment holes so that the saddle can be shifted forward or backward, depending on whether you are balancing a front-heavy or back-heavy scope.
Although the locking knobs have 3/16-inch hex sockets, there are few times when they need to be used, as hand tightening is normally sufficient. They are intended more for accessibility than force. There is a safety relief machined into the saddle to allow more travel of the dovetail plate when using a ¼-20 safety screw in the bottom of the dovetail plate.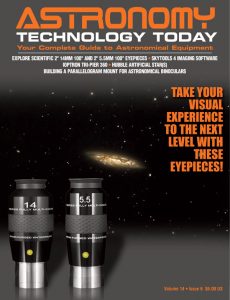 And to make it easier for you to get the most extensive telescope and amateur astronomy related news, articles and reviews that are only available in the magazine pages of Astronomy Technology Today, we are offering a 1 year subscription for only $6! Or, for an even better deal, we are offering 2 years for only $9. Click here to get these deals which only will be available for a very limited time. You can also check out a free sample issue here.