Astro-Physics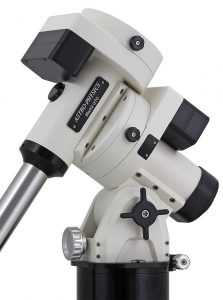 is continuing to set the standard for portable telescope mounts with the announcement of its new Mach2GTO Universal Robotic mount. The new mount is scheduled to be available for order this fall.
The new Astro-Physics Mach2GTO mount was debuted at NEAF 2019. According to Roland Christen when unveiling the mount at NEAF, (shown in the accompanying image of the new mount)  "We are very excited to introduce our newest GTO mount at the Northeast Astro Imaging Conference. The attached photo shows a setup with close to seventy pounds of payload: scopes, cameras, mounting plates, etc. – it purrs like a kitten, but is built like a bulldog to handle your astro gear with ease. This mount will come equipped with absolute encoders for easy setup, precise tracking and will always know where it is."
Universal Robotic means that the Astro-Physics Mach2GTO fulfills all of the requirements of a robotic mount for automated operation for imaging, satellite tracking, comet tracking, star survey work and others. In addition, the clutches allow it to be used manually for star sweeping. It is so easy to use that it can be set up quickly in the field with minimal effort and no complicated startup routines. The encoders keep track of the axis positions at all times whether parked, unparked, power on or power off.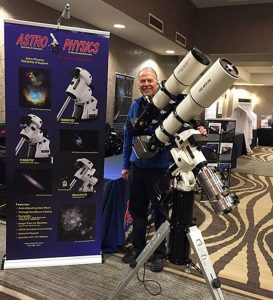 Astro-Physics has developed a new GTOCP5 Servo Control System which combines the precision performance of Renishaw Absolute Encoders with the whisper-quiet motion of brushless micro-step servo motors to produce a very accurate observatory grade mount that can also be set up in just a few minutes in the field. The mount can be operated manually via the clutches or electronically with the encoder loop providing the pointing and tracking functions.
Specifically, this means:
– Use of Absolute Encoders allows the mount to always know where the axes are pointing and don't need to establish home on power-up. The mount can be operated manually via the clutches or in full GoTo mode via keypad or external software.
– Absolute Encoders are dead accurate in slewing, pointing, tracking, guiding. Periodic error and backlash, reversal delays in Dec are eliminated.
– Rapid feed-forward servo loop stiffens the axes against outside disturbances such as cable drag and wind loading.
– Both axes can be run at custom tracking rates from sub-arc second motions per hour to 1000x sidereal.
– The GTOCP5 has modeling capability that is suited for quick setups in the field for portable operation. No computer needed.
– The GTOCP5 brushless servo system can be run from 12 volts to 24 volts with max slewing from 1200X (5 deg/sec) to 1800X (7.5 deg/sec).
– The power to the motors is self-limiting and cannot cause any kind of damage to the windings or the electronics, even when in a stalled state.
A GTO keypad is available as an optional purchase. It offers a self-contained computer that allows the ability to control all essential telescope functions and includes an extensive database of objects. The Keypad is an ideal choice for users who do not want to bother with a computer in the field and prefer the handiness of the keypad and its ability to operate in very cold temperatures. Astro-Physics has designed the interface and firmware to be as intuitive and easy to use as possible, while filling it with terrific features to make observing sessions productive and pleasurable.
In addition to the new control system, the new Astro-Physics Mach2GTO is packed with many features including:
– Polar Align, Power Up and Go!
– Renishaw Absolute Encoder for the ultimate in precise tracking – no SDE or random errors above 1/4 arc sec
– Absolute encoder provides near zero tracking error and resists outside influences such as wind and cable drag
– Precision balancing via the clutches without taking the worm gears out of mesh
– Brushless Micro-step Servo System for precise and whisper-quiet slewing and tracking
– Custom tracking rates in both axes (for asteroids, comets, satellites)
– Auto-Adjusting gear mesh
– Image all night without meridian flip, as long as your scope clears
– Daytime polar alignment is now simplified since we have encoders to set the positions
– Precision azimuth adjuster with rotating base
– Built-in bubble level & compass
– Right-angle polar alignment scope (optional)
– Through-mount cabling (optional)
– Modeling in Keypad & GTOCP5
– Fully supported enhanced ASCOM driver
– Portable – under 40 lbs.
– Operate with 12V battery or up to 24V power supply
– Ideal for 6-7" refractors, 8-12" SCTs and Maks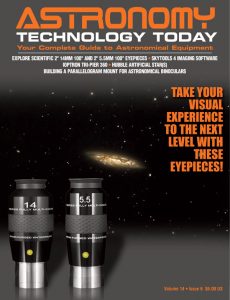 And to make it easier for you to get the most extensive telescope and amateur astronomy related news, articles and reviews that are only available in the magazine pages of Astronomy Technology Today, we are offering a 1 year subscription for only $6! Or, for an even better deal, we are offering 2 years for only $9. Click here to get these deals which only will be available for a very limited time. You can also check out a free sample issue here.