The autobiography of Mike Weasner describes his journey through the Universe that began in southern Indiana. His journey took many turns and jumps to other paths as though he were living different lives as he wondered about his role in our wonderful Universe. His family, friends, teachers, and bosses all played significant roles in defining Mike's future.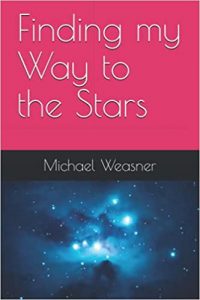 In this autobiography Mike provides a very personal story of his journey through the Universe. You will experience his lives and his loves of people, astronomy, music, flying, and teaching, along with life changing decisions, twists and turns, ups and downs, challenges, failures, and successes. Readers can use his autobiography as a guide to their own journey, regardless of whether they are just starting out on that journey, are trying to decide among the multiple paths their journey might take, or as justification that they did indeed take the right paths just like Mike.
Mike received a Bachelor of Science degree in Astrophysics from Indiana University, was a jet fighter pilot and fighter instructor pilot in the United States Air Force, manager on the Air Force Space Shuttle Program, and computer engineer and manager in multiple roles at a large aerospace company. But astronomy always remained at the center of his Universe.
Mike has been interviewed by newspapers, podcasts, and radio and TV stations to discuss astronomy, astrophotography, and protection of the night sky. He is a popular guest speaker at star parties and conventions. Since 1996 he has maintained a world-renowned presence on the Web with his telescope and observatory web sites. Mike has won several awards for his astronomy and dark sky preservation public outreach. He was the star of an Emmy nominated TV show. He is a recipient of the Indiana University Bicentennial Medal.
The autobiography can be purchased from Amazon in both paperback ($14.95; Print-on-Demand) and Kindle ($5.95) formats. The book is available in multiple countries so check your local Amazon store.