The Astronomik Clip Filter lineup for Canon EOS cameras are used for astrophotography in moderately light polluted areas and can be inserted into the camera body within seconds. There are no conversions necessary and all functions (focus, aperture, image stabilization) are completely preserved.

Almost all Canon system lenses (with the exception of the EF-S series) and all adapters on M42, T2 and others can be used with the Clip Filters. They also provide excellent dust protection, preventing dust from reaching the sensor during long exposure times.
The Astronomik Clip Filter system solves a number of problems for those who own a Canon EOS digital camera and want to use the camera for astro-imaging. These include:
– Large filters for large camera lens objectives are very expensive.
– If you place a filter holder between your camera body and lens, you lose the ability to focus to infinity.
– For very fast (low f/ number) telescopes like the Vixen R200SS or the Takahashi Epsilon astrograph, a filter drawer or a filter wheel cannot be used since the distance to the corrector lenses would be changed.
– With long exposure times, a camera's sensor chip is exposed to more dust.
The Astronomik Clip Filter has been popular accessories for astrophotographers around the world for many years. The only drawback has been that the image quality in the image corners has been limited with short focal lengths.
Although Astronomik filters only consist of a 1 mm thick, optically polished glass plate which supports the filter layers, there are aberrations in short focal length lenses of certain types and the stars are pulled apart to lines.
With the new Astronomik XT filters, you can use the advantages of Astronomik's clip filters even in extreme wide-angle shots and get beautiful star images down to the corners. This is because the new Astronomik XT filters are mounted on an extremely thin carrier substrate of only 0.3mm thickness. This reduces the "star marks" in the corners to a minimum. This extremely thin carrier substrate of the XT filters is also fine-optically polished, stress-free and in every respect meets the highest demands of astrophotographers.
Despite this ultra-thin glass, the Astronomik XT filters still use the well-known coating technology of all Astronomik filters offering filters that are completely scratch-resistant, moisture-resistant and non-aging. The filter will still have 100% of its efficiency in many years (all filters come with a 10-year warranty).
Not all Astronomik filters are available as XT filters. They currently only produce a selection of filters that are predestined for photography with wide-angle lenses.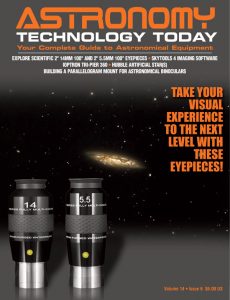 And to make it easier for you to get the most extensive telescope and amateur astronomy related news, articles and reviews that are only available in the magazine pages of Astronomy Technology Today, we are offering a 1 year subscription for only $6! Or, for an even better deal, we are offering 2 years for only $9. Click here to get these deals which only will be available for a very limited time. You can also check out a free sample issue here.