In December 2019, Atik Camera's announced the introduction of the Atik Horizon II, which is the follow up to the company's first ever CMOS Camera. The company has announced the camera is now available to purchase in mono and color models. With extensive experience in both hardware and software design, the Atik Horizon II continues the company's development in the world of deep-sky optimized CMOS cameras.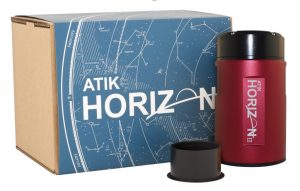 While the camera maintains the elements which made the original Horizon such a great camera, the Horizon II also adds improved electronics and an increased variety of options. This is a result of the extensive work that Atik's in-house R&D team have done, which has culminated in the evolution from the original Horizon into one of the most versatile cameras available in the Horizon II which is suitable for both deep sky and planetary imaging due to its various modes.
The Horizon II houses a 16MP sensor with exceptionally low read noise and incredibly fast read speeds offering a sensitive, high megapixel sensor at a competitive price point. This makes it a great option if you're looking to upgrade from DSLR or have system that would benefit from shorter exposure times.
Specifications include:
– 16MP 4/3″ CMOS sensor
– 256mb DDR3 Image Buffer
– ~1e- Read Noise
– Cooling ΔT=>-40°C
– USB 3.0
New to the Horizon II is a PowerSave Mode which allows for the highest quality images to be taken. A Fast Mode takes advantage of the on-board DDR memory to return a constant stream of images. Fast mode increases the frame rate of the Horizon II to 8FPS. This can increase to 100FPS through the use of subframing and reaching 300FPS when used with Atik's Dusk imaging software. This enhances the experience of those using the camera for planetary imaging, as the faster frame rate minimizes the atmospheric distortion of a set of images. This in turn makes the stacking process, carried out by various Horizon II compatible software, simpler and more efficient.
Mechanically, the Horizon II is based on Atik's established 4-Series cameras, known for their power and adaptability. With a cylindrical case measuring 74mm in diameter and 130mm in length, it's compatible with HyperStar systems from 8″. The slight size increase on the 4-Series is to house a huge cooling delta of -40°C below ambient. This keeps thermal noise under control, wherever in the world you image from.
The Atik Horizon II is natively compatible with Atik's Infinity live stacking software to give incredible views of the night sky in a near real-time environment. Not only is this great for video astronomers and public outreach, it also makes getting into astrophotography a breeze. The on-the-fly image processing gets you up and running quickly, minimizing the learning curve many people experience. However, advanced functions ensure you are always in control as you steer your way through the night sky.
The Infinity software offers easy live continuous stacking; flexible histogram control, including auto-stretch functions; live YouTube broadcast integration; interactive session replay; focus assist and monitoring tools and the ability to save to FITs, PNG, JPG and TIFF formats.
The Horizon II is fully compatible with Atik's Artemis Capture and Dusk imaging software that gives you full control over your imaging. The company also supplies a full ASCOM driver so you're free to use it with your preferred astroimaging software. When used with Dusk, the Horizon II can be used as a cooled deep sky imaging camera and also for high speed planetary imaging with frame rates reaching 300 frames per second using the ROI function.
The Horizon II benefits from a built-in 256mb DDR3 image buffer to remove amp glow and other artifacts caused by data transfer over USB2, all while preventing issues with dropped frames. This makes for a seamless and fast imaging experience, whether you're taking advantage of the flexibility and low cable weight of USB2 or the fast speeds of USB3.
Technical specifications include:
– Sensor Type: Panasonic MN34230 4/3″ CMOS
– Horizontal Resolution: 4644 pixels
– Vertical Resolution: 3506 pixels
– Pixel Size: 3.8 µm x 3.8 µm
– ADC: 12 bit
– Readout Noise: ~1e- at x30 gain
– Gain Factor: Variable 1 – x60
– Full Well: ~20,000e-
– Dark Current: 0.016 e-/pix/s at -10°C
– Interface: USB 2.0 or USB 3.0
– Power: 12v DC 2A
– Maximum Exposure Length: Unlimited
– Minimum Exposure Length: 18µs
– Cooling: Thermoelectric set point with max ΔT=>-40°C
– Weight: approx. 525g
– Backfocus: 13mm ±0.5
– Thread on front: M42x0,75
– Available as mono or color models
As the Atik team points out, "Our experience of working with demanding scientific applications has given us an advanced understanding of sealing techniques. This understanding allows us to create a condensation free environment, and means your desiccant lasts much longer between recharges. We're using the same quartz fused cover glass as our Atik 383L+ camera to prevent condensation forming on the outside of the glass when the camera's cooled. This added level of performance and reliability means you can spend less time maintaining your equipment, and more time imaging with it."
You can learn more on the Horizon II and other Atik cameras here.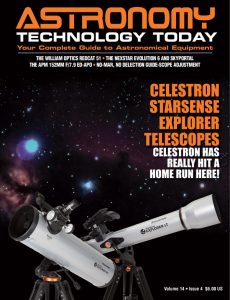 And to make it easier for you to get the most extensive news, articles and reviews that are only available in the magazine pages of Astronomy Technology Today, we are offering a 1 year magazine subscription for only $6! Or, for an even better deal, we are offering 2 years for only $9. Click here to get these deals which only will be available for a very limited time. You can also check out a free sample issue here.