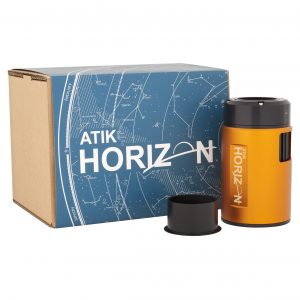 The Atik Horizon was Atik Camera's first foray into offering cameras with CMOS sensors. The Atik Horizon offers the same high quality craftmanship offered throughout the Atik product line and combines exceptionally low read noise with high read speeds and a high megapixel count, all at an affordable price.
According to the Atik team, "This is our first camera to offer adjustable gain. We've made a gain settings video (See at the end of this article) to explain in a bit more detail how this setting works. In very simple terms, it's similar to the volume control on a radio. By turning up the volume, you may be able to hear faint sounds better, but the loudest ones may be distorted. This is similar with imaging. By turning up the gain, it's easier to detect faint signals, but brighter signals are more likely to oversaturate. High gain settings are excellent for narrowband imaging, which makes the mono Horizon an excellent choice if this is where your interests lie. On the other hand, low gain settings are great for high dynamic range in bright targets and for capturing things like star color."
With a 3.0-μm pixel size, the Atik Horizon is a great match for shorter focal length telescopes and camera lenses. This in turn provides exceptional fields of view and makes it a perfect step for those looking to create stunning vistas of the deep sky, or upgrade from a DSLR. The 16MP 4/3-inch chip helps prevent any "sensor size shock" some users feel when moving to CCD sensors, while the monochrome version brings the world of narrowband and LRGB imaging to the CMOS market.
The Horizon is fully compatible with Atik Cameras' highly acclaimed Infinity live-stacking software, opening the world of near-real time imaging. The simplicity of the Infinity software creates a fluid and friendly user experience, removing the steep learning curve many face when getting started in deep-sky imaging.
But that simplicity doesn't come at the cost of control. There is a powerful engine behind the software that keeps that keeps the user at the center of the experience. Features include live continuous stacking, flexible histogram control (including auto-stretch functions), live YouTube broadcast integration, interactive session replay, focus assist and monitoring tools, and saving to FITs, PNG, JPG and TIFF formats.
The Atik Horizon also comes with Atik's own Artemis Capture for astrophotography and a full ASCOM driver for compatibility with all major third-party software. Behind the scenes, the camera uses a 256-mb DDR3 image buffer to help keep the high read speeds under control and remove any amp glow or other artefacts that may be caused by data transferring over USB3. A cooling delta of 40-degree C below ambient sees a marked improvement of their renowned 4-Series design, while maintaining a cylindrical case suitable for HyperStar systems from 8 inches.
From the outset, the Horizon has benefited from a built-in 256-mb DDR3 image buffer to remove amp glow and other artifacts caused by data transfer over USB2, all while preventing issues with dropped frames. This makes for a seamless and fast imaging experience, whether you're taking advantage of the flexibility and low cable weight of USB2, or the fast speeds of USB3.
Atik's experience of working with demanding scientific applications has given them an advanced understanding of sealing techniques. This understanding allows Atik to create a condensation-free environment, which means your desiccant lasts much longer between recharges. The Atik Horizon features the same quartz-fused cover glass as the Atik 383L+ camera to prevent condensation forming on the outside of the glass when the camera is cooled. This added level of performance and reliability means you can spend less time maintaining your equipment, and more time imaging with it.
Included with the Atik Horizon are the camera body with a 2-inch adapter, a USB 3.0 cable, a USB 2.0 cable, a 1.8-meter battery-power connector, a CD-ROM with drivers, software and user's manual (PDF), a printed Quickstart Guide, a cable post and a desiccant-port tool.
Technical specifications include:
– Sensor Type: Panoconic MN34230 4/3-inch CMOS.
– Horizontal Resolution: 4644 pixels.
– Vertical Resolution: 3506 pixels.
– Pixel Size: 3.8 µm x 3.8 µm.
– ADC: 12-bit.
– Readout Noise: ~1e- at x30 gain.
– Gain Factor: Variable 1 – x60.
– Full Well: ~20,000e-.
– Dark Current: 0.016 e-/pix/s at -10°C.
– Interface: USB 2.0 or USB 3.0.
– Power: 12-volt DC, 2A.
– Maximum Exposure Length: Unlimited.
– Minimum Exposure Length: 18 µs.
– Cooling: Thermoelectric set point with max ΔT=>-40°C.
– Weight: approximately 525 grams.
– Back Focus: 13 mm ±0.5.
– Thread-on front: M42x0.75.
– Available as mono or color.
For more information, visit Atik-Cameras.com.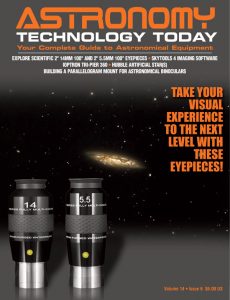 And to make it easier for you to get the most extensive telescope and amateur astronomy related news, articles and reviews that are only available in the magazine pages of Astronomy Technology Today, we are offering a 1 year subscription for only $6! Or, for an even better deal, we are offering 2 years for only $9. Click here to get these deals which only will be available for a very limited time. You can also check out a free sample issue here.