The new Baader CMOS filters are optimized (ultra-) narrowband and highspeed filters developed by Thomas Baader and his team to cost-effectively tackle the problem of filters being associated with creating halos when put into close vicinity of correcting lenses in conjunction with latest generation CMOS-chips.
The result is four new families of Baader CMOS filters:
– 6.5 nm Narrowband Filters, CMOS-optimized – for f/10 to f/3.5
– 6.5 nm f/2 Highspeed Filters, CMOS-optimized – for f/3.4 to f/1.8
– 3.5 / 4 nm Ultra-Narrowband Filters, CMOS-optimized – for f/10 to f/3.5
– 3.5 / 4 nm f/2 Ultra-Highspeed Filters, CMOS-optimized – for f/3.4 to f/1.8
In total there are 84 new filters in the Baader CMOS filters family which are designated as CMOS-optimized, with the same high quality and engineering expected from the Baader family of products.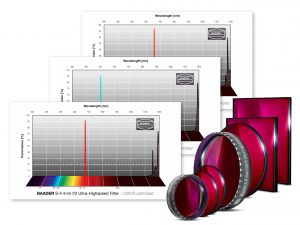 As Thomas Baader notes, "For more than a decade, during the reign of CCD-cameras, our Baader Narrowband-filters had served somewhat as an industry-standard in astro-filter technology. And "all of a sudden", with always newer and revolutionary CMOS-chips hitting the market, people started to complain about halos, whenever a coma-corrector, field-flattener or reducer-corrector would be placed in close vicinity to one of our filters."
He continued, "We studied far and wide and for some time took some soothing from the fact that amateur forums around the world had similar reports for our competitors. However, some solution to this just had to be found – but without just have filter prices skyrocketing as was the case everywhere. As a consequence we looked into latest advanced coating technologies and how to use it in ways to address this most severe problem, since nowadays almost any telescope would use such auxiliary-optics closely in front of the chip-plane."
He continued, "Eventually, with significant investment in R&D, we ran from one prototype run into the next from 2019 until now. Countless nights were spent under the stars to evaluate so many different coating systems on all four new filter families, consisting of all together 84 new filters. However, after much hardship we are absolutely convinced that our new Reflex-Blocker coating systems are addressing this severe problem in a very satisfying fashion, with just a moderate increase in price."
Features of the new Baader CMOS filters include:
– Increased contrast.
– More narrow passbands.
– Baader Reflex-Blocker coatings for freedom from halos, even under most adverse conditions concerning aux-optics.
– FWHM on each filter category carefully designed to allow for 1:1:1 exposures, matched for typical CMOS quantum efficiency and S/N ratio.
– Identical filter thickness to existing standards, with utmost care for parfocality.
– Blackened edges all around, with filter-lead-side-indicator in the form of a black frontside outer rim, to additionally eliminate any reflection due to light falling onto the edge of a filter.
– Each filter is coated individually, with sealed coating edge.
– Baader Life-Coat: Hard coatings to enable a non-aging coating for life – even in a most adverse environments.
Every Baader CMOS cell mounted filter is cut as a round or square disc in the according size (1¼", 31mm, 36mm, 2″, 50,4mm, 50x50mm, 65x65mm), and then is polished plane to a quarter wavelength on both sides on a computer numerically controlled polisher. After that, the polished blanks are submitted to the coating procedures. This sequence is also used for all  unmounted filters.
The Baader team deliberately avoids cutting filters from larger sheets, because the coating layers can be damaged at the edges and suffer from microscopic fissures. That lets moisture penetrate and the filters are subject to ageing. In particular, this applies to many of the complex dielectric coatings needed for nebular filters, UV/IR blocking filters and emission line filters.
Damage to multi-layered filters at the edge results in greater damage than to a single anti-reflection coating. As the filters are not cut-outs, every individual filter disc can then be coated, but not right to the edges. This seals the filter, and no moisture can penetrate into the coating layers. Hence, the narrow-band filters are free from aging, and can be carefully cleaned without hesitation and as often as necessary.
As Thomas notes, "Our UV/IR blocking filters were exposed for 1 hour to boiling water at the company B+W (Schneider Kreuznach, Germany). This accelerated aging test corresponds to approximately 5 years of filter aging in actual use. The edge-sealed filters showed no aging and above all no changes to the measured transmission at different wavelengths."
As Thomas comments on the testing of the new Baader CMOS filters, "One of our first testers was Andreas Bringman, owner of a 2.6m Baader Classic Dome and renowned Astro-Photographer – see his images on www.astrobin.com/users/equinoxx/. The all new f/2 Ultra-Highspeed Filters not only lead to amazing images but even enabled the photographic proof of the newly discovered planetary nebula StDr13, check out the detailed test review."
And in his email to us announcing the new filter line, Thomas made these comments:
At the feet of the Aithiopian King Cepheus (Latin Cepheus), one of the well-known constellations of the northern sky, lies – at a distance of 1300 light years – Sh2-129, a faint red hydrogen emission region of type HII. This red nebula holds a mysterious object for us, an elongated blue bubble officially designated Ou4. The blue light from Ou4 took 2300 years to reach Earth and shines through the red hand.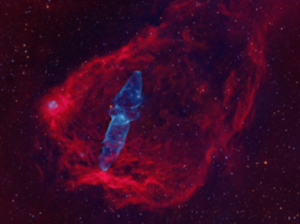 To us, a pandemic-stricken mankind, the heavenly combination of  Sh2-129 and Ou4 reminds us of a cosmic hand that offers to all of us a Covid vaccine vial. One could even identify the break-off-top of the vial and thumb-nail and fingers, when concentrating on image detail. The blue nebula, which glows only in the OIII spectral line is so very faint that only as recently as 2011 it was discovered by the French amateur astrophotographer Nicolas Outters!
Originally, the object was called a bipolar planetary nebula. Recently, however, researchers came to the realization, that Ou4 is a spectacular outflow of material, driven by HR8119, a triple system of hot, massive stars seen near the center of the blue nebula. Incidentally, its extent in the sky is about 2.5 times the diameter of the full moon. This means that this truly gigantic Covid vial has a diameter of almost 50 light-years!
Astrophotographers will face extreme challenges. Already Sh2-129, the cosmic hand, is one of the faintest objects in the sky. In order to image the blue Covid vial it is not enough just to increase the exposure time.
One needs suitable extreme narrowband filters which block the visible spectrum completely and only show the OIII spectral line in a few nm wide window.
But also special techniques of image processing are necessary, to bring out this much detail, otherwise Ou4 would just appear as a faint ghost in this image. The Image made by Andreas Bringmann and is shown here.
You can learn more about the new Baader CMOS filters here.
And to make it easier for you to get the most extensive news, articles and reviews that are only available in the magazine pages of Astronomy Technology Today, we are offering a 1 year magazine subscription for only $6! Or, for an even better deal, we are offering 2 years for only $9. Click here to get these deals which only will be available for a very limited time. You can also check out a free sample issue here.