The Baader Solar Continuum Filter is a narrowband photosphere filter for solar observation in white light providing the highest contrast in the photosphere of the sun. The filter is a perfect fit for owners of achromatic refractors. This narrowband filter cuts the spectral range where lens optics draw sharpest and contrastiest. The Baader Solar Continuum Filter lets you use the full power of your telescope.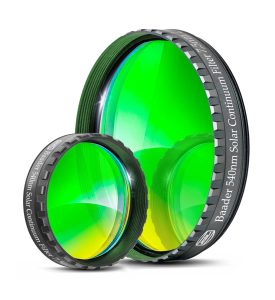 The Solar Continuum Filter must be used only with additional filtering such as a Baader Herschel prism or Baader AstroSolar Safety Film.
The filter works as a monochromator: suppressing the effects of the atmospheric turbulence and delivering images that are significantly sharp. It offers an enormous contrast gain in monochrome photography even on apochromatic systems
Compared to the previous model with a 10nm half-band-width, this filter has a half-band-width of only 7.5nm, which increases the contrast even more. It replaces both the previous Baader 10nm Solar Continuum filter and the stacked 1 ¼" filter. The single filter performs so well that stacking is no longer necessary – the contrast gain of a single 7.5nm filter makes stacking unnecessary and this performance is now also available in 2″.
As the Baader team notes, "Lens systems – including those of apochromats, catadiopters or eyepieces – are traditionally optimized for the spectral range around 540nm, since this is where our eye has the highest sensitivity. This narrowband filter therefore blocks everything with the exception of the spectral range in which a lens optic works most sharply and with the highest contrast. The effect is greatest on achromatic lens telescopes; but there is also an effect on apochromatic telescopes, catadioptric systems, and even pure mirror systems by reducing air turbulence."
As a monochromatic filter, it is ideal for use on monochromatic cameras and can even provide a tremendous gain on pure color systems. As the Baader team notes, "With a color camera, as with deep-sky narrow-band photography, it is less effective as only the green pixels are used. Thus, although you still benefit from the improved image sharpness of the telescope that is optimized for green wavelengths (and the reduction of the influences of air turbulence), with a color camera you cannot fully exploit the better image quality compared to monochrome cameras, as you are effectively working with reduced camera resolution."
The Baader 7.5 nm Solar Continuum also offers all the advantages of the CMOS-optimized Baader filter line:
– Increased contrast, matched for typical CMOS quantum efficiency and s/n ratio.
– Baader Reflex-Blocker coatings, for largest ever freedom from halos, even under most adverse conditions concerning aux-optics.
– Identical filter thickness to existing standards, with utmost care for parfocality.
– Blackened edges all around, with filter-lead-side-indicator in the form of a black frontside outer rim, to additionally eliminate any reflection due to light falling onto the edge of a filter.
– Each filter coated individually, with sealed coating edge (not cut out of a larger plate with coatings left exposed).
– Baader Life-Coat evermore hard coatings to enable a non-aging coating for life – even in the most adverse environment.
The Baader team additionally notes, "For purely visual observation, the Solar Continuum filter must only be used in combination with our Herschel wedge with an additional ND3 filter or alternatively with the AstroSolar Safety Film (ND 5.0). The Solar Continuum must always be installed behind the actual solar filter. The combination of AstroSolar photographic film (ND 3.8) and Solar Continuum filter or the photographic ND filters of the Herschel wedge must only be used for photographing the sun at the highest magnifications. These must only be used to achieve very short exposure times with a camera, and thus to minimize the influence of air turbulence. AstroSolar photo film (ND 3.8) is also not suitable for mounting directly in front of a camera lens. The resulting image brightness is much too high."
You can learn more about the Baader Solar Continuum Filter here.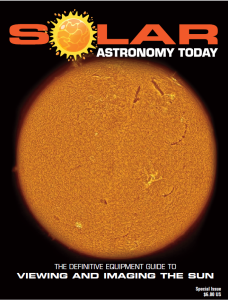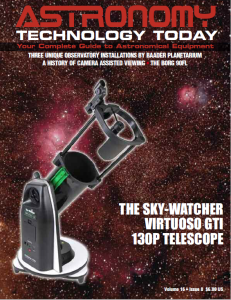 The sun is more active than its been in years! If you'd like to learn more about the technology behind solar observing, solar imaging and more, you can check out our free publication, "The Definitive Guide to Viewing and Imaging the Sun". You don't have to sign up or provide any information, simply click here and enjoy reading!
And if you want to learn more about telescopes and more products used in amateur astronomy you will enjoy the extensive news, articles and reviews that are only available in the magazine pages of Astronomy Technology Today. We are offering a 1-year magazine subscription for only $6! Or, for an even better deal, we are offering 2 years for only $9. Click here to get these deals which only will be available for a very limited time. You can also check out a free sample issue here.