The Celestron EclipSmart Solar lineup of solar safe optics and observing tools can help you view and photograph the Sun.
The Celestron EclipSmart Solar lineup of solar products feature Solar Safe filter technology providing protection from harmful solar radiation, including both IR and UV light, and filters 99.999% of intense visible light. Celestron Solar Safe filter technology is guaranteed safe for direct solar observation and has been independently tested by SAI Global Assurance Services. Solar Safe products conform to and meet the transmission requirements of ISO 12312-2, Filters for Direct Observation of the Sun, EN 1836:2005 + A1:2007 (E) for an E15 Filter for the Direct Observation of the Sun and, AS/NZS 1338.1:2012, Filters for Eye Protectors.
Among Celestron's Celestron EclipSmart Solar lineup offerings are:
EclipSmart 10x25mm Solar Binocular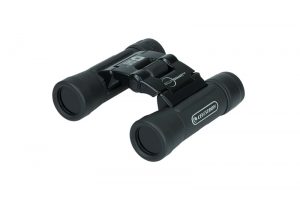 The EclipSmart 10x25mm Solar Binocular  features Solar Safe filter technology and dual lens, non-removable glass solar filters that fully meet ISO12312-2 – safe for viewing the sun when used in accordance with the included instructions.
The large field of view allows users  to easily locate and view the entire solar disk while observing the natural details of the Sun, including daily sunspot activity and eclipse. The binoculars have a rubber-armored aluminum body, which is both rugged and weather resistant. They include a soft carry case and binocular strap.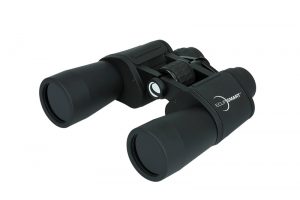 EclipSmart 10x42mm Solar Binocular
With its multi-coated optics and Solar Safe filter technology, the Celestron EclipSmart 10x42mm binocular  offers high-contrast images to clearly show the details of the Sun. The natural image color presentation also enhances the view of the Sun, allowing the details of the Sun to be seen as they truly are.
The Celestron EclipSmart 10×42 mm binocular provides a generous field of view, allowing for a full image of the solar disk to be seen. It includes a soft carry case and binocular strap.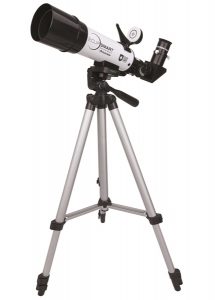 EclipSmart Travel Scope 50
The Celestron EclipSmart Travel Scope 50 provides a dedicated white-light solar telescope for the observer on the go. The 50-mm refracting telescope uses Celestron's Solar Safe, ISO compliant, full-aperture glass solar-filter material to ensure the safest view of solar events. The filters are permanently attached and cannot be accidentally removed while observing.
The kit comes complete with everything you need, including the dedicated solar telescope, a Solar Safe finder scope, tripod, a high quality 20-mm (18x) Kellner eyepiece and a nylon backpack to carry everything in. The Solar Safe finder scope allows you to easily align the telescope to the Sun without directly viewing the Sun. Just line up the shadow of the pointer with the center of the target reticle, and the Sun should appear in your eyepiece.
The scope's photo-style alt-azimuth mount and tripod allow easy adjust and aiming while offering great stability. The telescope can point straight overhead without interference. The 20-mm Kellner (1.25-inch) eyepiece offers 18X magnification for a good image scale, while offering a wide field if view to make it easier to track the Sun's  motion.
Eclipsmart Solar Filters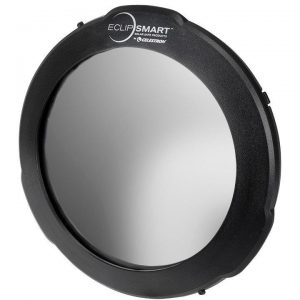 The Eclipsmart Solar Filters for the Celestron 8" SCT, 8" EdgeHD and 6" SCT instantly transforms your normal Celestron 8" Schmidt-Cassegrain telescopes (8″ SCT), Celestron 8″ EdgeHD and 6" Schmidt-Cassegrain (6″ SCT) telescopes  into a yellow-light solar telescope. The filter's ISO compliant solar safe film protects your eyes when viewing the sun.
They are made of scratch resistant polymer produced by American Paper Optics. Designed from the telescope's lens cap for a snug fit, each filter includes two safety Velcro straps and four self-adhesive Velcro pads for safely securing your solar filter in place.
The full Celestron EclipSmart Solar lineup of EclipSmart Optics and Observing Kits are available from your favorite Celestron dealer. For more information, visit www.celestron.com.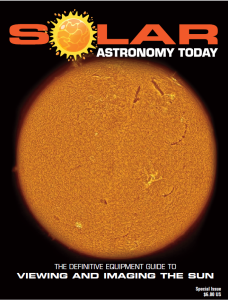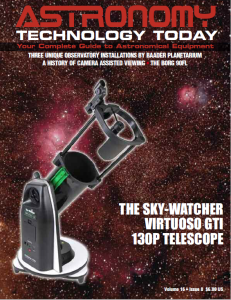 The sun is more active than its been in years! If you'd like to learn more about the technology behind solar observing, solar imaging and more, you can check out our free publication, "The Definitive Guide to Viewing and Imaging the Sun". You don't have to sign up or provide any information, simply click here and enjoy reading!
And if you want to learn more about telescopes and more products used in amateur astronomy you will enjoy the extensive news, articles and reviews that are only available in the magazine pages of Astronomy Technology Today. We are offering a 1-year magazine subscription for only $6! Or, for an even better deal, we are offering 2 years for only $9. Click here to get these deals which only will be available for a very limited time. You can also check out a free sample issue here.