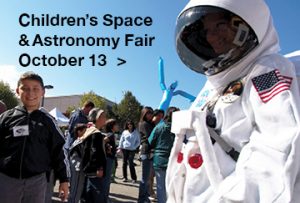 The Rockland Astronomy Club (RAC) is hosting a Children's Space & Astronomy Fair this weekend. The event will be held on Saturday October 13, from 11 am – 3 pm at the Hudson Valley Challenger Center in Suffern, New York.
RAC has designed the event to offer an environment which brings together science, art and adventure in one place where families can explore their imagination and let their mind wonder.
The event offers:
– Presentations from Scientists & Astronomers
– Activities & Hands-on Demonstrations
– Simulated Space Missions in Hi-tech Simulator Rooms
– Live Planetarium Shows
– Space & Astronomy Crafts
– Raffle with Cool Astronomy Prizes
– Bouncy House & Anti-Gravity Ride
– Refreshments available on-site
Founded in 1958, RAC is one of the East Coast's premiere astronomy clubs and non-profit space, science, and astronomy education organizations. Throughout the year the organization offers events, lectures, workshops, star parties, planetarium shows, children's programs, and much more.