One of the easiest and inexpensive ways to do view the Sun is with solar glasses. These are special glasses that remove all harmful ultraviolet, all harmful infrared and 99.999 percent of intense visible light. It makes you wonder how you get to see anything at all!
But don't worry, there is plenty of light still available with solar glasses to provide great views of the eclipse. Make sure you buy only glasses that are designed specifically for viewing the Sun and are designated as 100-percent ISO certified Solar Safe. Only these types of solar glasses filter out that harmful ultraviolet and infrared light to allow you to view the eclipse safely.
DO NOT use regular sunglasses. They will not protect your eyes from harmful solar radiation when looking directly at the Sun.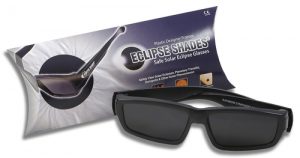 Companies typically sell ISO-certified Solar Safe glasses in packages of five or more. Several companies can accommodate large lots from 50 on up for educational purposes.
The most basic (and most inexpensive) solar glasses have frames of cardboard holding solar-safe, low-cost lenses. These are sturdy enough to use for the eclipse and fold easily to fit in your pocket. They represent the simplest, most -affordable way to outfit your family for the big day.
Also available are more-durable, high-end versions of solar glasses. These can be as stylish as regular sunglasses and, unlike cardboard solar glasses, which should be considered disposable, these should last for years.
So go ahead and look at the Sun (safely) with solar glasses.