Alcor-System has recently introduced a Continuous Solar Seeing Measurement System (CSSMS). The idea behind the CSSM is to measure the Sun's scintillation and compute seeing figure equivalents. It can be combined with all of Alcor-System's Sky cameras and nighttime seeing monitors.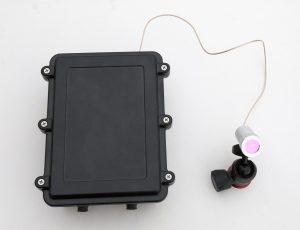 Turbulence (or seeing) is a great concern when recording images of the sky because it can jeopardize telescope resolution. Recording images during "best seeing" is optimal and to do so, continuous seeing measurement is required to optimize image recording time. Adding to the challenge of turbulence is the fact that getting seeing measurements during the day can be challenging since no star can be used.
The Continuous Solar Seeing Measurement System is a totally sealed system that can overcome all extreme weather conditions and is not sensitive to wind gusts due to its strong design. The system offers watertight connectors for continuous outdoor operation and is made of high-quality alloy colorless anodized aluminum. A photodiode and a green filter 550nm, and very accurate and fast 16-bit ADC performs SUN scintillation measurements and outputs seeing figures expressed in arcsecs.
The software starts measurements automatically when the Sun is above the horizon and there is a clear sky. The CSSMS measures atmospheric seeing conditions in a continuous fashion, so the setup stays outdoors measuring sunlight and its scintillation. Clear skies without clouds is required for the system to work properly.
The link to the computer is USB – HID type (no COM emulation) and offers a very reliable data link. The software runs on a PC Windows 10 platform and displays and saves seeing data through the course of the time.
You can learn more about these Alcor-System Continuous Solar Seeing Measurement System here.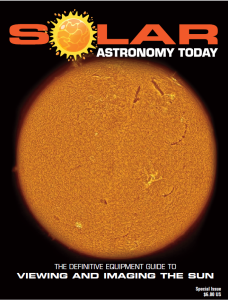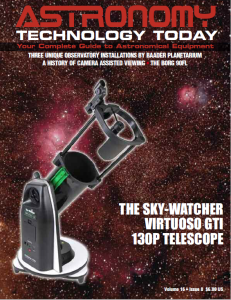 The Sun is more active than its been in years and we have the Annular Solar Eclipse on October 14, 2023 and the Total Solar Eclipse on April 8, 2024! If you'd like to learn more about the technology behind solar observing, solar imaging and more, you can check out our free publication, "The Definitive Guide to Viewing and Imaging the Sun". You don't have to sign up or provide any information, simply click here and enjoy reading!
And if you want to learn more about telescopes and more products used in amateur astronomy you will enjoy the extensive news, articles and reviews that are only available in the magazine pages of Astronomy Technology Today. We are offering a 1-year magazine subscription for only $6! Or, for an even better deal, we are offering 2 years for only $9. Click here to get these deals which only will be available for a very limited time. You can also check out a free sample issue here.