The DayStar Filters H-Alpha SR-127 QT is the company's flagship dedicated Hydrogen Alpha solar telescope.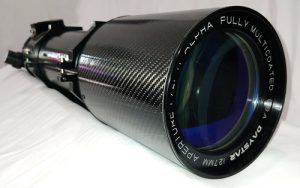 Updated in 2020, the carbon fiber telescope offers a  lightweight, short tube with retractable dew shield. The compact design is only 29 inches long and weighs just 13lbs including mounting rings and dovetail.
A high quality 127mm doublet achromat, the telescope is optimized for Hydrogen Alpha in design, figuring and coating. The focal length is 2667m and with focal reducer EFL is 1355mm. It is available in Chromosphere, Prominence or specific bandpass in PE grade.
The SE Grade DayStar Filters SR-127-QT Solar Telescope Prominence Model is priced at $5,995US and the SE Grade Chromosphere Model is retail priced at $7,995US. Pricing of the PE Grade SR 127-QT Solar Telescope 0.2 – 0.8Å is available upon request.
Specifications of the new telescope include:
– Digital readout and precision tuning control accurate to 0.01Å in center wavelength.
– Uses 12VDC power so it can also run off batteries.
– Quantum Control software capable.
– Robust, 2-inch steeltrack and rack and pinion focuser for added strength.
– Fully integrated DayStar filtration with classic DayStar Quantum control.
– Includes mounting rings with Vixen dovetail.
– Includes zero power solar finder 'alignment keys'.
– Ships in Pelican Storm Case.
– Telescope Length:  31.1″ with dew shield retracted
– Telescope weight:  13.6 lbs. in rings.
– Operating Temperature:  20-100° F
– Power supply: DC 12V, maximum
– 120mA, 2.1×5.5mm
– AC Adapter included: 120-240VAC
– Power consumption: 1.5 watts
– Wavelength Shift range: +/-1Å
– 100% safe and fully blocked directly through the OTA
– 100% safe and fully blocked directly through white light solar finder scope
– Reaches focus using the following:  1.25″ eyepiece, 2″ eyepiece, ToUCam, Lumenera, SBIG, SLR, DSLR*, afocal, CCTV Video,
– Recommended:  Tele Vue 55mm Plössl eyepiece for full disk or Tele Vue 32mm or 40mm Plössl eyepieces for higher power views with the SR-127 Solar Telescope.
You can learn more about the DayStar Filters SR-127-QT at DayStars' website.