Deep-Sky Planner 8 from Knightware has been released offering an updated and expanded professional catalog data and lots of new features. Deep-Sky Planner 8 makes your imaging and visual observing faster, easier and more accurate.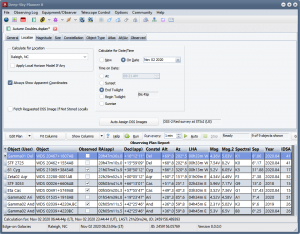 Deep-Sky Planner 8 astronomy software for Windows provides the powerful, accurate tools you need to make your time at the telescope more efficient and enjoyable. Discover what you can observe, when and where to observe it, and what it looks like. Once you've observed an object, record the observation in the most feature-complete observing log anywhere.
Your observations can be exchanged with other astronomy software (like SkySafari or Starry Night) that supports OpenAstronomyLog – the world's first open, non-proprietary international standard for recording observations.
Deep-Sky Planner 8 new features include:
– Expanded and improved database – 1.6+ million objects
– Improved user interface – support for 4k+ monitors, light and dark themes.
– Browse and download resources on the online community – Observing Plans and Equipment Lists.
– Show Chart support added for Stellarium
– Print to fit, print in color and print to PDF features added
– Improved orbital elements management – download from MPC or NASA/JPL SSD.
Deep-Sky Planner 8 product highlights
Data
Astronomy software relies on accurate data. Version 8 has the latest and best deep-sky and stellar data available. Data is taken from the latest professional, peer-reviewed catalogs and now contains 1.6 million objects.
Version 8 includes the latest (2019) Revised NGC/IC catalog by Dr. Wolfgang Steinicke. Other catalogs have been added or updated and many corrections and cross references have been made to the database. Stellar data have been updated to permit high accuracy binary star ephemerides for well-studied visual systems, and predictions of variable star light extrema. Catalog data is treated differently than any other software in the industry. See why.
Accurate ephemerides may be calculated for Sun, moon, planets, comets and asteroids. You can do filtered and sorted searches for asteroids and comets.
Observing plans can be built containing any of over 1.6 million objects in the database, or any other that you define. The online Plan Library has hundreds of pre-built plans ready for download. Plans run in real-time or for any time and place that you select. Plans can be loaded into Nexus DSC, Argo Navis or Sky Commander devices. They can also be shared with SkySafari, ACP, APT and Sequence Generator Pro software.
Reporting
Data reporting is vital to astronomy software. Deep-Sky Planner 8 includes several reports for planning and logging. Each can be printed, saved to HTML, plain text or delimited text (CSV) formats. Planet Events reports can also be saved to iCal format. Reports may be customized extensively. See how.
Logging
Astronomy software often treats logging as an insignificant addition, but not Deep-Sky Planner. The logging features are the most feature-complete available, and they are fully integrated with all planning features. The software learns which observing session and equipment you are using as you enter observations so that your workflow is optimized. The log is also fully searchable and reports are completely customizable.
The log supports recording extensive sky and weather conditions data, including direct reading support for Unihedron's Sky Quality Meters and ASCOM weather devices. Still images, scanned sketches, video and audio can also be attached to observations.
Your observations are also more portable than ever: Deep-Sky Planner 8 allows you to exchange observations with other astronomy software (like SkySafari or Starry Night) that supports OpenAstronomyLog 2.1, an international standard for observation exchange. You can also save your log reports as HTML, plain text, or delimited text (CSV).
Star Charting
Deep-Sky Planner 8 interoperates intelligently with leading planetarium software giving you the very best star charting functions available without duplicating features and costs. Use with Cartes du Ciel, Stellarium, TheSkyX Pro, TheSky6, Starry Night and Redshift. See how.
Here is an in-depth list of updates:
Data Updates
Catalog data have been expanded and updated.
– There are now over 1.6 million objects in the database and nearly 1.2 million names and cross references to these objects.
– Revised Flat Galaxy Catalogue and the Vorontsov-Velyaminov Interacting Galaxies Catalogue have been added to the reference database.
– IAU star names, Flamsteed numbers and Bayer designations have been updated in the reference database.
– The following catalogs have been updated: WDS, PGC, NGC and IC catalogs. The NGC/IC catalogs are taken from the latest Revised NGC/IC from Dr. Wolfgang Steinicke. This is probably the most updated and corrected edition of the NGC/IC available today. Finally, many corrections have been made to the database.
– A cross reference from GGC (Catalog of Galactic Globular Clusters, Monella, 1985) to GCl (Star Clusters & Associations II. Globular Clusters, Ruprecht+, 1981) has been added.
– A cross reference from BOCL (Optically visible open clusters and Candidates, Dias+, 2015) to OCl (Star Clusters/Associations. III. Open Clusters, Ruprecht+, 1983) has been added.
Support for downloading and storing orbital elements has been expanded to include asteroid and comet elements from NASA/JPL Solar System Dynamics group and each of 3 categories of elements from MPCORB. These categories include numbered asteroids, unnumbered asteroids and unnumbered and unperturbed asteroids. These new datasets are large; thus, downloading them is multi-threaded.
Community Updates
New support has been added for browsing and downloading observing plans and equipment lists from the Deep-Sky Planner Community on the Knightware website. There are hundreds of plans and new ones are added weekly. Equipment lists are updated less frequently.
Charting Updates
– Show Chart support has been added for Stellarium.
– Show Chart remains for Cartes du Ciel 3+, Redshift 7+, Starry Night 6+, TheSky6 Serious+, TheSkyX Pro. Support for more recent versions remains.
User Interface Updates
– New styling of the user interface is available, including a dark style.
– Support for high resolution displays, like 4k monitors with scaling > 125% has been added throughout the product.
– The multi-document window style of user interface has been replaced with a multi-tab style. You can still have multiple documents open and you can still copy and paste objects from document to document.
Printing Updates
– Print to Fit has been added – the report text is adjusted to fill the width of a page in either portrait or landscape orientation.
– Color printing is supported
– Print to PDF has been added
Documents Updates
Exporting observing plans has been streamlined. Plans can be exported to several applications and devices:
– Imaging software; ACP Observatory Control software; APT (Astro Photography Tool) target list; SGP (Sequence Generator Pro) target list
– Planetarium software; Cartes du Ciel and SkySafari
– Devices; Argo Navis, Nexus DSC and Sky Commander
Deep-Sky Planner 8 is backward compatible with version 7 documents. Deep-Sky Planner 8 observing plans are compatible with Deep-Sky Planner Mobile Edition.
Observing Log information can be moved from version 7 to version 8 by using Backup / Restore.
Logging Updates
– Support has been added for multiple images attached to an observation.
– Support has been added for multiple media files attached to an observation.
– Notes about various equipment and observers can be added in their respective browsers.
System Updates
– The Deep-Sky Planner installer can copy its interoperation plug-ins for Starry Night Pro/Pro Plus and Stellarium if they are installed in their default locations. The plug-ins can also be installed later.
– License activation can now be done online or by email.
Deep-Sky Planner 8 is available now exclusively through Knightware here by digital delivery ($75USand on CD ($85.00US).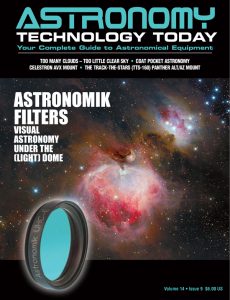 And to make it easier for you to get the most extensive news, articles and reviews that are only available in the magazine pages of Astronomy Technology Today, we are offering a 1 year magazine subscription for only $6! Or, for an even better deal, we are offering 2 years for only $9. Click here to get these deals which only will be available for a very limited time. You can also check out a free sample issue here.