PrimaLuceLab Eagle3 Control Unit: If there's a downside to the not-unwarranted attention recently paid PrimaLuceLab's refractors – its AIRY-series apos are, after all, truly gorgeous! – it is that its refractors risk overshadowing its other significant innovations. Witness the Eagle Control Unit. While it, too, receives the same striking finish as the AIRY OTAs, its function, though critical, is hardly as sexy. Bottom line: Doublets, triplets and quadruplets trump circuits when it comes to turning astrophotographers' heads.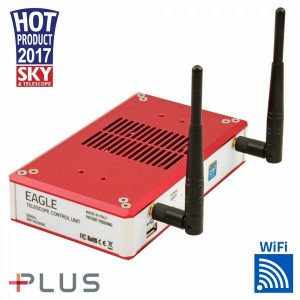 But while the AIRYs weren't the first apos in the market, gorgeous though they are, Eagle is the first such device that allows wireless control of all telescopes and accessories used in astrophotography. Sexy? Not so much. Game-changing? Totally! Leave the laptop behind. Eagle integrates an internal computer running stable and compact Windows 10 Enterprise, plus a power bridge to manage all connected devices, plus Wi-Fi for remote wireless control of, well, everything, and all that in a compact, rugged aluminum case that mounts directly to your telescope and can even become a structural component.
Eagle not only eliminates the need for an external computer, mounts directly to the telescope and rotates with it, eliminating the problem of cord wrap and the risk of USB and power cables being accidentally unplugged.
Because it is purpose designed for wireless remote control via Wi-Fi with any popular device (smartphone, tablet, computer) and with any mainstream operating system (iOS, OSX, Android, Windows), it is compatible with all astrophotography software with any telescope, CCD camera, guide camera and computerized mount. All of them.
The Eagle3 Control Unit manages the power of all telescope components and reduces the size and weight of batteries required for power the complete system. Because you no longer need a power-hungry laptop or PC, imaging sessions require far less field-battery capacity.
It uses a Windows Embedded 10 Enterprise operating system, which is lighter and more stable than basic Windows 10, but which is nevertheless 100-percent compatible. There are no fans or other moving parts, so there is nothing to introduce vibrations into the imaging train.
The Eagle3 Control Unit case is compact and lightweight, weighing less than 2.0 pounds, yet sturdy enough for direct attachment off telescope support components. Use it with PrimaLuceLab's PLUS system, or attach your Vixen- or Losmandy-format dovetails and saddles.
Control any mount using the pre-installed SkyCharts software – you are not limited to your mount's original hand controller. Control your DSLR or CCD camera remotely. Eagle accepts the Windows software included with your camera, converting your previously wired camera to wireless operation. It's easy to autoguide with Eagle – PHD2Guiding is pre-installed. Eagle is compatible with any Windows software, allowing you to extend its functionality virtually endlessly.
The Eagle comes in four different configurations:
1) EAGLE CORE – Offers a control unit for astrophotography providing anyone with a DSLR cameras to start enjoying astrophotography. It offers a simple and easy to use system to use a DSLR (Canon EOS or Nikon), to photograph the objects in the Universe.
DSLRs are great cameras providing the ability for long exposure astrophotography of galaxies, nebula or star clusters, thanks to high sensitivity and low noise sensors. It is designed to make the most from DSLR's – connected to photo lenses or telescopes – creating a complete system, compact and easy to transport: all controlled via WiFi from your smartphone or tablet.
Thanks to integrated Eagle OS software, it controls a DSLR camera, performs autoguiding with QHY5L-II and Lodestar guide cameras, has 3 12V outputs to power up to 3 instruments (such as the mount and the camera) and provides the ability for you to connect to any plus system dovetail plate, clamp and ring.
2) EAGLE – Offers a control unit for telescopes and astrophotography is installed on the telescope combining the computer with a power bridge, allowing you to control with a wireless connection (from your smartphone, tablet or remote computer) all the instruments used in astrophotography: no more uncomfortable laptops or large batteries on the field.
Designed specifically to make astrophotography easier and faster, the Eagle integrates a computer running Windows 10 Enterprise (more stable and compact version than normal computers), a power bridge to manage all the connected devices, a WiFi system to remote wireless control, all that in a special aluminum case plus it offers compatibility that can be connected in various ways to your telescope, always with maximum rigidity.
3) EAGLE OBSERVATORY – A control unit for observatories for astrophotography it offers a i5 2,3 GHz Dual Core processor (with Turbo Mode up to 2,9 GHz) and 16 GB fast RAM memory that, thanks to increased storage space (SSD 128 GB) and remote control of devices power on/off, lets you control and power also bigger telescopes like the ones installed in observatories. All in a lightweight, compact and designed to be installed in your telescope.
4) EAGLE S –  Offers an enhanced version of the Eagle with a i3 2,1 GHz Dual Core processor, more storage space (128GB SSD) and increased number of USB ports (6 in total including 4 USB3.0). It's the ideal solution for several astrophotography advanced applications (such as imaging automation with telescopes) or for high resolution planetary photography. EAGLE S is designed to be installed in the telescope, it powers devices and it allows you to remotely control the entire telescope in a simple and smart way.
###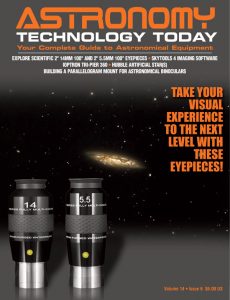 And to make it easier for you to get the most extensive telescope and amateur astronomy related news, articles and reviews that are only available in the magazine pages of Astronomy Technology Today, we are offering a 1 year subscription for only $6! Or, for an even better deal, we are offering 2 years for only $9. Click here to get these deals which only will be available for a very limited time. You can also check out a free sample issue here.