Explore Scientific is celebrating tenth university. Originally created as an amateur astronomy technology company offering Explore Scientific branded products, the company has grown into a business offering amateur astronomy, scientific optics, sports optics and adventure gear.
The company was founded by its president, Scott Roberts, who has spent over 30 years in the astronomy optics industry. He became involved in the astronomy hobby as a young boy. In high school, he began selling cameras at Oceanside Photo, spending 11 years there and served as the General Manager. He was instrumental in introducing telescopes to what would be renamed Oceanside Photo and Telescope (OPT) which has now become one of the largest astronomy dealers in the world. He moved on to work at Meade Instruments spending 21 years there while holding many job responsibilities including VP of Sales.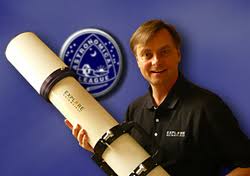 In 2008, Scott decided to follow his passion for the hobby by starting his own company. Explore Scientific, LLC began with a relationship between Jinghua Optical Corporation (JOC) in Guangzhou, China. JOC is a leader in Asia's optical manufacturing field and is the exclusive manufacturer of Explore Scientific products.
In 2010, Explore Scientific relocated to Northwest Arkansas to establish an office and a small warehouse in Bentonville. Business quickly expanded and the company made several moves to its present-day location in Springdale and now occupies 60,000 square feet of showroom, warehouse and office space.
In 2012, Robert Price joined forces with Scott and established a formal partnership. Rob is COO of Explore Scientific, LLC and is responsible for the startup and growth of mass merchant channels and the Explore One National Geographic and Discovery brands.
Since the beginning, Explore Scientific has been on a mission to make astronomy accessible and provide a truly transformative experience by giving enthusiasts of all skill levels the tools and guidance they need to explore the skies. The company focuses on building its reputation in the astronomy community by designing high quality telescopes and premium eyepieces that quickly grew to demanding standards of clarity, contrast and functionality.
Explore Scientific has also branched out into other areas of the optics industry thanks in large part to strategic partnerships.
In 2009, the company began a mutually beneficial relationship with Bresser, a Germany-based company that has grown since its 1957 inception to become a leader in Europe's optics industry. Through this collaboration, Explore Scientific became the exclusive distributor of Bresser products throughout the Americas and expanded its offerings to include binoculars, microscopes, riflescopes, laser rangefinders, game cameras and other instruments for both outdoor sports and science enthusiasts.
The present-day business structure has changed with 100% Explore Scientific becoming a wholly owned subsidiary with USA ownership. Operations include sales, design, marketing, distribution, and light manufacturing. With its sharp growth trajectory and multi-national design group the company continues to advance the standards of consumer optics with proven technology and application competence along with resources in China, Germany and the US.