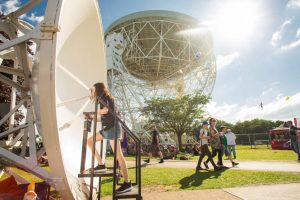 We don't typically cover academic or mainstream astronomy news, however we thought this was cool and wanted to share it with our readers.
The Jodrell Bank Observatory in Cheshire, England has been added to the UNESCO World Heritage List. What makes this really interesting is the observatory is one of only 32nd UNESCO World Heritage Site in the UK joining Stonehenge and other significant places in world history including Machu Picchu, the Great Wall of China and the Taj Mahal. The decision to add Jodrell Bank Observatory to the UNESCO World Heritage List was taken at the 43rd session of the World Heritage Committee in Baku, Azerbaijan.
As an interesting side note, amateur astronomers can also conduct radio astronomy as PrimaLuceLab offers a unique opportunity to enjoy the cosmos and beyond with the SPIDER230c, a radio telescope that combines radio technologies with that of amateur astronomy, packaged in a powerful, modular and easy-to-use system.
Jodrell Bank, owned by the University of Manchester, is famous as the home of the Lovell Telescope, the world's third largest steerable radio telescope. Completed in 1957, the dish was the largest of its kind anywhere in the world until 1973 and was the catalyst for the construction of many other large-scale satellite dishes.
The Lovell Telescope's first act was to track the Soviet Union's Sputnik, the world's first artificial satellite. Today, Jodrell operates the UK's national e-MERLIN radio telescope and hosts the global headquarters of the Square Kilometre Array, a radio telescope project that will build the world's largest telescope, comprised of a network of instruments sited in South Africa and Australia.
The addition of Jodrell Bank to the UNESCO World Heritage List is in recognition of its outstanding scientific heritage including its pioneering role in the development of radio astronomy and its work in tracking spacecraft in the early space race, and its research into quasars, pulsars and gravitational lenses. The site has evidence of every stage of the history of radio astronomy, from its emergence as a new science in the 1940s through to the present day.
In 2017 the Department for Digital, Culture, Media and Sport (DCMS) increased the Observatory's recognition in the National Heritage List for England. The Mark II Telescope joined the Lovell Telescope in being listed at Grade I, the highest form of protection, with a further five buildings listed at Grade II. Together, these listings recognized the pivotal role played by the Observatory in the development of the science of radio astronomy, revolutionizing our understanding of the universe.
According to the Matthew Lodge, Minister and Unesco's Ambassador of Great Briton and Northern Ireland, "Jodrell Bank is more than just a relic from the post-war flourishing of research technology. It is also a beacon and center of excellence for world-leading research and education, reminding us that there is far more to the Universe than meets the eye. It is part of one of the UK's leading universities, the University of Manchester, and hub of the UK's national array of seven radio telescopes."
He continued, "Jodrell Bank is a symbol of international collaboration and the exchange of ideas and values. The Observatory cooperates with leading institutions and scientists worldwide to help us all to better understand our place in the Universe through cutting-edge discoveries in astronomy, quantum optics, satellite communications and many other fields. It also welcomes numerous visitors each year to capture their imagination and engage the world with science. Jodrell Bank's rich scientific heritage bears testimony to the UK's leading role in science research worldwide. Becoming the UK's 32 UNESCO World Heritage Site is a great accolade for the Observatory, Cheshire and all of the UK."