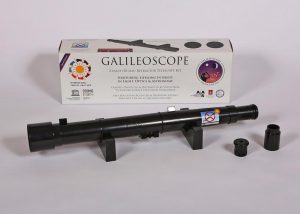 The Galileoscope telescope has a new home: Explore Scientific. The Arkansas-based maker of telescopes, mounts, eyepieces, and other astronomical gear, founded by Scott Roberts in 2008 after he spent nearly 30 years working for other optics manufacturers and dealers, assumes responsibility for the production, distribution, and marketing of  the Galileoscope telescope effective immediately. This rescues the kit from oblivion, as the volunteers who had managed the project for a decade had run out of resources to continue production and had suspended sales after nearly exhausting their inventory.
The Galileoscope telescope was created under the auspices of the International Astronomical Union (IAU) as a global cornerstone project for the 2009 International Year of Astronomy (IYA). It solved a long-standing problem: the lack of a high-quality, low-cost telescope kit suitable for both optics education and celestial observation.
The Galileoscope program was expected to last only through the IYA, but the global astronomy education/outreach community loved the kit and asked its creators to keep it in production, which they managed to do for an additional nine years, thanks in part to the kit also being named a cornerstone project of the 2015 International Year of Light (IYL). Over the past 10 years, more than a quarter million Galileoscope kits have been distributed to teachers, students, and other enthusiasts in more than 110 countries for use in science education and public outreach activities.
In the process of assembling the Galileoscope, users explore fundamental optical concepts such as how lenses form images. Then, with their completed 50-mm (2-inch) diameter, 25- to 50-power refracting (lens-based) telescope — which attaches to any standard photo tripod — they enjoy sharp views of lunar craters and mountains, Jupiter's moons, Saturn's rings, the phases of Venus, and other bright celestial objects that the pioneering Italian astronomer Galileo first observed four centuries ago.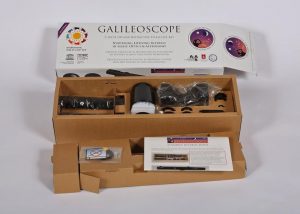 The kit is augmented with free, standards-based optics-education and observing activities. These well-tested materials can be used by classroom and after-school teachers and informal educators to provide an engaging approach to teaching science and the process of science. Galileoscopes have also been incorporated into veteran rehabilitation programs such as Wounded Warriors and Home Base, as well as science camps and nature outreach and education programs.
"We spent more than a year searching for someone to continue the legacy of the Galileoscope," says Douglas Arion (Carthage College), who served as president of Galileoscope, LLC, the company he created with Rick Fienberg (then at Sky & Telescope magazine, now at the American Astronomical Society) to produce and distribute the kits. "We couldn't be happier that Scott, whom Rick and I have known and admired for many years, has agreed to keep
the kit in production. Explore has a deserved reputation for superb product quality and customer service, so we know the Galileoscope is in good hands."
Explore Scientific started out making products exclusively for backyard stargazers, with the mission to make astronomy accessible and provide a truly transformative experience by giving enthusiasts of all skill levels the tools and guidance they need to explore the skies. Through a strategic partnership with Bresser, a leading European optics manufacturer based in Germany, Explore has expanded its offerings to include binoculars, microscopes, riflescopes, laser rangefinders, game cameras, and other instruments for outdoor sports and science enthusiasts.
"We'd been thinking for quite some time how to better serve STEM education," says Roberts, referring to supporting teachers and students in science, engineering, technology, and mathematics. "Doug and Rick came to me at the perfect time," adds Roberts, "as we had begun selling inexpensive microscopes and other technology for classroom use, but we didn't yet have a telescope kit. At one stroke the Galileoscope makes Explore Scientific the source of the best such kit in existence."
Once Explore begins producing new kits, the Galileoscope telescope will be available directly from them as well as from resellers. Organizations that have featured Galileoscopes in teacher-training workshops — including the U.S. National Optical Astronomy Observatory, the Astronomical Society of the Pacific, and the IAU's Galileo Teacher Training Program — will once again have access to kits for use in their education and outreach programs.
"For a while there, we thought the Galileoscope was a goner," says Fienberg. "We told people that the end of the project wouldn't be a failure, because we'd succeeded beyond our wildest dreams by distributing more kits than we had any right to expect. And we meant that," he continues," but of course we knew we'd be letting the astronomy education and outreach community down if the Galileoscope simply went away. Seeing the kit get a new lease on life with Explore Scientific is extremely gratifying and a win for everybody."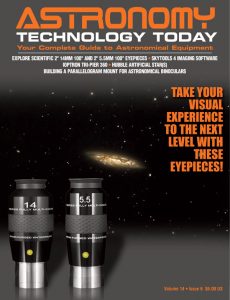 And to make it easier for you to get the most extensive telescope and amateur astronomy related news, articles and reviews that are only available in the magazine pages of Astronomy Technology Today, we are offering a 1 year subscription for only $6! Or, for an even better deal, we are offering 2 years for only $9. Click here to get these deals which only will be available for a very limited time. You can also check out a free sample issue here.