Meteor shower aficionados have suffered months of not so great meteor viewing conditions and the Lyrid meteor shower will finally break that curse. Coinciding with the new moon, the sky will be perfect to view this popular spring event.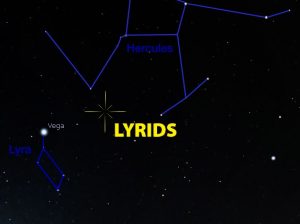 The Lyrids are particles left over from comet 1861 G1 Thatcher, which last passed through the inner solar system in 1861. Tuesday, April 21 will see the showers at their peak with 10 to 20 meteors per hour potentially visible. The showers will continue at peak through early Wednesday morning and will then see gradually less activity through April 26.
The International Meteor Association has provided an in-depth look at the Lyrids and how to get the best viewing experience. They also offer an opportunity to help track the showers as part of their larger scientific outreach efforts.
As their website notes, "To provide a scientific useful observing session one needs to carefully note the starting and ending time of your session and the time each meteor appears. The type of meteor needs to be recorded as well as its magnitude. Other parameters that can be recorded are colors, velocity (degrees per second or verbal description) and whether the meteor left a persistent train. Fireballs should be noted, and a separate online form filled out after the session."
No equipment is needed to view the showers, however astro imagers can get impressive time lapse images from the event. Also, any DSLR owner with a tripod and wide-angle lens can get impressive images of these types of peak meteor shower events. The American Meteor Society offers a nice overview of imaging meteor showers with a DSLR here.