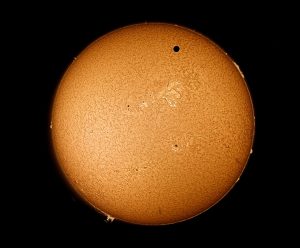 Our friends at Lunt Solar Systems are gearing up for the Mercury transit of the Sun that will occur on Monday, November 11th, 2019.  We thought we would share what they are saying about the event!
Mercury will pass between the Earth and the Sun for the first time since 2016, and this is your last chance to see it until 2032! This is a spectacular event to witness, considering the transit of a planet across the face of the Sun isn't a common occurrence. In fact, it's actually a relatively rare astronomical event!
Although Mercury passes around the sun every 88 days, it's not every day that our Earth, the Sun, and Mercury align. Mercury orbits in a tilted path from Earth's orbit and because of this, it typically moves above or below our line of sight to the Sun. As a result of this, every century, there are only 13 visible Mercury transits across the sun. This event is your chance to break out your telescopes and view our neighboring planet unlike most have ever seen. You don't want to miss it!
This transit will be fully viewable from the eastern U.S. and partially viewable from the rest of the continental U.S. (including a small portion of Alaska).
Keep in mind that we will be having another Solar Astrophotography Contest in November after the transit has ended. Take the opportunity to capture this event and submit your image to our contest to show off this impressively rare occurrence. Just imagine capturing an astronomical event like this! Get your scopes ready!
The last Mercury transit occurred on May 9, 2016, at roughly 7:12 am. Watch the video below to view the previous event and share in our excitement for the upcoming transit.
NASA's SDO Captures Mercury Transit Time-lapse May 9, 2016
Mercury's transit across the sun will be widely visible for most to see. The transit will be seen from the Americas, New Zealand, Europe, Africa, and a small portion of western Asia. Unfortunately, this time around, the transit will not be seen from most of the eastern hemisphere including central and east Asia, Asian islands such as Japan and Indonesia, and also Australia.
If you want to do some early planning, and get your scopes prepared, keep track of the upcoming transits for the next few years here.
Solar Astrophotography Contest #2
If your head is in the stars, we don't blame you. It's incredible out there! And to help share the wonder that is our solar system, the Lunt Astrophotography Contest is in full swing! Submit your image to the contest here and join the competition for a chance to win a $200 Lunt Solar Systems Gift Card and have your photo featured on social media and in future newsletters. The contest is getting hot, so get your scopes ready and show us what you can capture! The deadline for image submissions ends on August 31st at 11:59 pm. Voting starts on September 1st, so make sure your image gives the rest a run for their money.