How to 'Count' Sunspot Activity is the topic of an upcoming webinar hosted by the AAVSO on Aug 6, 2022 6:00 PM UTC.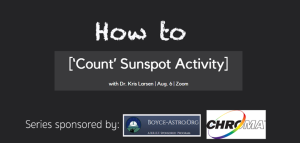 The closest variable star, our sun, has begun to awaken from solar minimum, presenting observers with an ever-changing constellation of sunspots and other features. Following up on her popular 2021 webinar on how to safely observe the sun, Dr. Kristine Larsen returns to share the ins and outs of sunspot monitoring.
Measuring sunspot activity takes more finesse than merely counting the total number of spots. Learn about the care and feeding of sunspot groups, and the important role they play in measuring solar activity.
Dr. Kristine Larsen is an astronomy professor at Central Connecticut State University. Her teaching and research focus on the intersections between science and society, including Gender and Science, science and popular culture (especially science in the works of J.R.R. Tolkien), and the history of science. She has received numerous awards and has authored several books.
You can register for the How to 'Count' Sunspot Activity webinar here.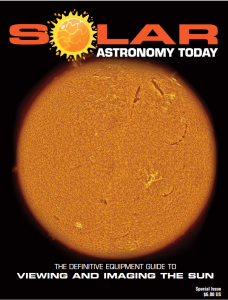 The sun is more active than its been in years! If you'd like to learn more the technology behind solar observing, solar imaging and more, you can check out our free publication, "The Definitive Guide to Viewing and Imaging the Sun". You don't have to sign up or provide any information, simply click here and enjoy reading!