Alan Dyer has revised and updated his interactive ebook, How to Photograph & Process Nightscapes and Time-lapses, adding 100 more pages to cover the latest equipment, software, and processing techniques for creating great still images and time-lapse movies of the night sky.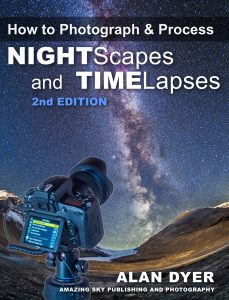 Want to learn how to take panorama images of the Milky Way over scenic landscapes? How to create time-lapse movies of the stars appearing in a darkening sky? How to stack star trails and meteor shower composites? It's all here.
Dyer's 500-page 2nd Edition includes 40 embedded HD videos with examples of time-lapse techniques to illustrate the topic as no previous book has done. The ebook also includes 60 step-by-step tutorials on how to use software such as Photoshop, Lightroom and LRTimelapse.
The previous 2014 edition garnered rave reviews, with readers calling it "incredibly well put together and visually stunning." "Simply amazing! From hardware to software, it's all covered. Alan Dyer got it right!" "It is a must-have resource for anyone doing nightscapes and time lapse photography."
The ebook appeals to both amateur astronomers and landscape photographers by providing the most comprehensive information available in an ebook on the new and hugely popular field of nightscape and time-lapse photography.
Alan Dyer takes readers from basic knowledge to advanced techniques: from how to buy the right cameras and lenses, and the best exposure times to use … to how to use sophisticated motion-control devices for creating cinematic time-lapse scenes, and how to shoot and process advanced "holy grail" day-to-night time-lapses.
How to Photograph & Process Nightscapes and Time-Lapses is available worldwide exclusively through the Apple iBooks Store, for the iBooks app on Apple Macs, iPads and iPhones. Price: $24.99 (U.S.). For more information, visit www.amazingsky.com/nightscapesbook.html or the iTunes link https://itunes.apple.com/book/id944708252 .
###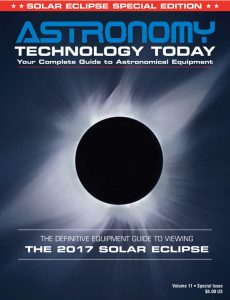 The Astronomy Technology Today editorial staff would like to take this opportunity to remind you of the availability of our Solar eclipse equipment guide – The Definitive Equipment Guide to the 2017 Solar Eclipse.  Our goal with the 40 page publication is to provide an easy-to-consume introduction to the technological options for viewing and imaging the Great Solar Eclipse. We cover the gamut of options available including building you own solar viewer, solar glasses, smart phones, DSLR cameras, using astronomy telescopes, solar telescopes, using binoculars, solar filters (including a DYI filter option), CCD astro cameras, astro video cameras, webcams and much more. You can view the guide on our website here – its free and there is no requirement to sign up to read the guide.