Imaging the Sun with a smart phone is something anyone can do. Virtually everyone has a smartphone or other smart devices (iPads, etc.) that offer the ability to take images, video and even time-lapse video.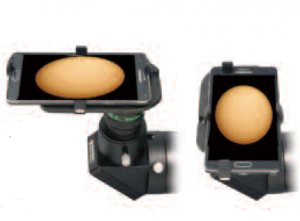 Imaging the Sun with a smart phone or another smart device without any additional filtering could damage the device. You might find opinions that differ on this subject, but our attitude is that these devices were not intended to image the Sun and, like cameras, telescopes, binoculars, etc., they should only be used when outfitted with the proper filtering.
From a technical standpoint, the imaging design of smartphones creates limitations when taking a photograph or creating a video of the Sun. Smart phones have a small sensor coupled with a small lens with a very wide angle – a combination that is going to make the Sun look like a small fuzzy ball – nothing like the glorious images you'll see online. However, there are options to take solar imaging with your smart phone to the next level.
When imaging the Sun with a smart phone for the most basic in safe viewing and imaging, you can purchase solar-safe white-light film and place it over your phone's image sensor. As discussed in our Solar Filter section, this will protect the device during solar imaging.
A step up is to add an inexpensive telephoto lens to your smart phone. These lenses connect to the phone's image sensor and functionally enlarge the Sun for your imaging, video or time lapse. You'll need to place your solar safe film on the telephoto lens instead of the phone itself.
A further step is to add a tripod adapter, another inexpensive accessory that will allow for steady imaging. Also widely available are combo tripod/telephoto lens options.
The top option for using your smartphone to photograph the Sun is to image through a binocular or telescope that is outfitted with a solar filter. There are numerous smartphone adapters available, but be wary of very inexpensive adapters, which can be quite flimsy. We suggest, if you are going to the trouble of setting up a telescope to image with your phone, buy an adapter from a company that specializes in astronomy products.
Imaging the Sun with a smart phone is something that you can definetly do with a little planning and basic equipment.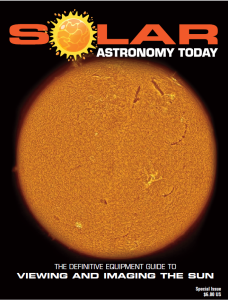 The sun is more active than its been in years! If you'd like to learn more the technology behind solar observing, solar imaging and more, you can check out our free publication, "The Definitive Guide to Viewing and Imaging the Sun". You don't have to sign up or provide any information, simply click here and enjoy reading!