First introduced in 2009, APT stands for "Astro Photography Tool" and is the brainchild of Ivo Stoynov, who calls the software a "Swiss army knife for your astro imaging sessions." The software draws upon the knowledge of many astro photographers from all over the world, as well as from the author's own experience.
No matter what camera you use – Canon EOS DSLR or CCD – APT has the right tool for planning, collimating, aligning, focusing, framing, controlling, imaging, synchronizing, analyzing and monitoring. All features are packed in an easy and comfortable to use interface. Ivo continues to improve and refine APT and packs new features in every major release. Currently, APT works on MS Windows XP, 7, 8, 8.1 and 10.
APT provides support for: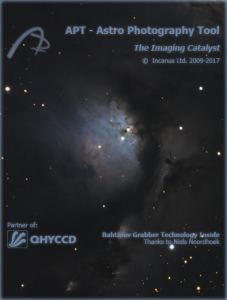 – Five generations of Canon EOS Models.
– ASCOM compatible CCD cameras – QHYCCD, Starlight Xpress, Atik, Orion, Moravian and more.
– Native support for QSI cameras and filter wheels.
– Native support for SBIG cameras and filter wheels.
– TEMPer(Gold) and TEMPerHUM sensors.
– USB Dewpoint sensor.
– Any serial control cable.
– Shoestring Astronomy DSUSB/DSUSB2 and Biula Audio Trigger.
– ASCOM compatible filter wheels.
– ASCOM compatible focusers.
– ASCOM filter wheel to focuser connection to apply filter focus offsets.
– ASCOM compatible rotators.
– ASCOM telescopes control.
– Extended support for AstroHub and SirJolo Arduino based focusers.
– Direct dithering (APT Dithering), when there is no guiding program.
– Direct pulse dithering (APT Pulse Dithering) for self-guided solutions.
– Unihedron and compatible Sky Quality Meter devices.
APT has a dedicated forum – www.aptforum.com – where you can ask or search specific questions. The forum also offers a growing source of information related to astro-photography, including imaging, automation, processing and more. To learn more about this latest release, visit www.astroplace.net.
###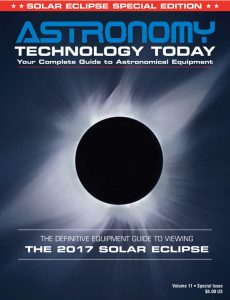 The Astronomy Technology Today editorial staff would like to take this opportunity to remind you of the availability of our Solar eclipse equipment guide – The Definitive Equipment Guide to the 2017 Solar Eclipse.  Our goal with the 40 page publication is to provide an easy-to-consume introduction to the technological options for viewing and imaging the Great Solar Eclipse. We cover the gamut of options available including building you own solar viewer, solar glasses, smart phones, DSLR cameras, using astronomy telescopes, solar telescopes, using binoculars, solar filters (including a DYI filter option), CCD astro cameras, astro video cameras, webcams and much more. You can view the guide on our website here – its free and there is no requirement to sign up to read the guide.