The iOptron CEM26 Center-Balance Equatorial Mount is the newest generation of compact EQ mounts from iOptron.
Like its predecessors, the CEM26 EQ Mount is designed with portability in mind, weighing in at only 10 lbs., the mount can support up to a 26lb payload – offering an incredible 2.6 mount weight to payload ratio. The key to enable such ratios is the CEM design which focuses the mount and payload weight directly on the center of the tripod rendering "natural stability".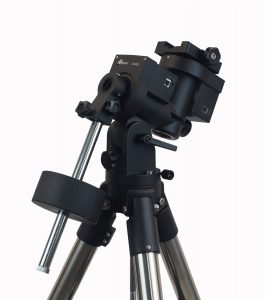 Building on the legacy of earlier CEM models, iOptron has added a number of features for convenience and functionality including a positive lock gear engagement system which is easy to use even when wearing gloves. The built-in Wi-Fi enables superior connectivity and the ability for recordable permanent periodic error correction (PPEC) to repeat optimal PEC training sessions. Regarding functionality, the CEM26 delivers precise pointing and accurate tracking.
The center-balanced design mount puts the weight of the payload at the center of gravity allowing for greater natural stability. Other features include an adjustable counterweight bar to prevent obstruction with the tripod. And polar aligning is quick and accessible all the time since the polar scope is not blocked by the declination shaft.
The CEM26 is equipped with the latest advanced GOTONOVA GOTO technology, making it one of the most powerful and accurate GOTO mounts available. Its database includes over 212,000+ objects. The Go2Nova Hand Controller is intuitive to use and its large 4-line LCD screen simplifies the process of setting telescopes and locating objects.
The CEM26 mount includes iOptron's iPolar integrated electronic polar finder scope. This tool ensures the accurate alignment of a telescope, even when the pole star is obscured. The mount also comes with IOptron's 1.75″ LiteRoc heavy duty stainless steel tripod.
The iOptron CEM26 specifications include:
– Mount: Center-Balanced Equatorial Mount
– Payload: 26 lbs. (12kg), exclude counterweight
– Mount weight: 10 lbs. (4.5kg)
– Payload/Mount weight: 2.60
– Structure Material: All metal, casting + CNC machined
– Exterior Finish: Powder coating
– Periodic error (PE) : <±10 arcsec
– PEC: Yes, Permanent PEC
– Worm period: 600 sec
– Right Ascension worm wheel: 88mm, 144 teeth aluminum
– Declination worm wheel: 88mm, 144 teeth aluminum
– Right Ascension axis shaft: 35mm steel
– Declination axis shaft: 35mm steel
– Right Ascension bearing: 55mm ball bearing
– Declination bearing: 55mm ball bearing
– Worm gears: 15.2mm, Brass
– Motor drive: 1.8º stepper motor, 128X microdivision
– Resolution: 0.17 arc seconds
– Transmission: Synchronous belt
– Latitude adjustment range: 0º ~ 60º
– Azimuth adjustment range: minus/plus 6º
– Polar Scope: iPolar electronic polar scope
– Level indicator: Level bubble
– Hand Controller: Go2Nova 8409 with 212,000 objects database
– Tracking: Automatic
– Slew speed: 1×,2×,8×,16×,64×,128×,256×,512×, max 6º/sec
– Power consumption: 0.5A(Tracking), 0.8A(GOTO)
– Power requirements: 12V DC, 5A
– AC adapter: 100V ~ 240V (included)
– Power-down memory: Yes
– Wi-Fi: Built-in
– Communication port: Yes (Wi-Fi and USB)
– Autoguide port: Yes (ST-4 compatible)
– Firmware upgrade: Yes
– PC computer control: Yes (ASCOM)
– Counterweight shaft: 20X306mm (M16), stainless steel
– Counterweight: 10 lbs. (4.5kg)
– Tripod: 1.5″ stainless steel (5kg)
– Dovetail saddle: 3.8″ Vixen-style, center adjustable
– GPS: Optional external 32-channel GPS
– Autoguiding: Optional external iGuider 1
– Operation temperature: -10ºC ~ 40ºC
The iOptron CEM26 EQ Mount is shipped with:
– Integrated iPolar System
– 1.75″ LiteRoc Tripod
– Counterweight Shaft
– 10lb Counterweight
– Go2Nova 8409 Hand Controller with Cord
You can learn more here.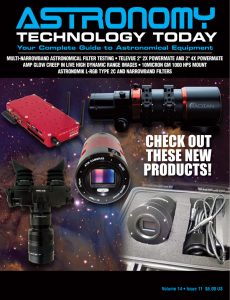 And to make it easier for you to get the most extensive news, articles and reviews that are only available in the magazine pages of Astronomy Technology Today, we are offering a 1 year magazine subscription for only $6! Or, for an even better deal, we are offering 2 years for only $9. Click here to get these deals which only will be available for a very limited time. You can also check out a free sample issue here.