Why use a Kendrick USB 3.0 Active Hub?
There are an impressive number of USB devices: imaging cameras, guide cameras, focusers, filter wheels, adaptive optics, flats panels, etc., and each has its own USB cable. By using a USB Hub up on the telescope, you have just a single cord that needs to come down from the mount.
Why a Powered Hub?
Unpowered hubs just don't work. Even if you're lucky and have a mount with built-in USB, chances are, it's not powered. Without a powered hub, your computer becomes the power source, and the computer is typically quite a distance away. Power and signal (data) don't have a fighting chance through those long cables.
Why 12-Volt?
Because 12-volt is what you use to power your devices: CCD Camera, Dew Controller, Focus Motor, etc. In most cases, a 12-volt power source is already on the telescope. This eliminates one more cord that can get snagged when the mount slews.
12-Volt Power Sources?
You can power the Hub with your DigiFire 8/12 Controller OR a Power Panel. Placing those devices on the telescope means that you can eliminate one more cord that won't need to come down from the telescope. Of course, you can also use the traditional cigarette-lighter cord.
Kendrick Kendrick USB 3.0 Active Hub Solution
The Kendrick Active USB 3.0 Hub is powered from 12-volt DC, and to the best of our knowledge, is the only hub of its type in the world. It is designed primarily for use by astro-photographers but will appeal to anyone requiring a USB hub in a field operation or permanent observatory situation.
Standard desktop hubs are designed for use indoors and must be powered from 120- or 240-volt mains electricity. For anyone requiring the use of a USB hub outdoors or in a remote situation where access to mains electricity is difficult or impossible, Kendrick's unique USB 3.0 solution is a welcome addition.
For astro-imagers, the use of a hub at the scope helps reduce wire routing and tangling problems. There's even a small heater inside to keep things nice and dry under the dampest imaging conditions.
USB 3.0 delivers data transfer rates up to 5 Gbps, 10-times faster than USB 2.0, but it's also backward compatible with USB 2.0 and 1.1. The unit includes a port for recharging smart-phones/tablets that require 2.1-amp service. Everything is housed in a rugged case with optional port dust covers. Kendrick's Active USB 3.0 hubs can even be ganged.
Maximum total output is 5 amps and 2.4 amps on individual ports. Case dimensions are 6.89 by 2.95 by 0.91 inches (175 mm by 75 mm by 23 mm), and the unit weighs 5.8 ounces (166 grams).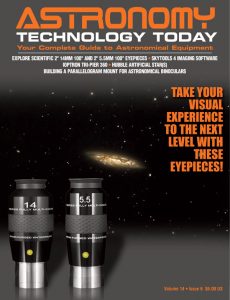 And to make it easier for you to get the most extensive telescope and amateur astronomy related news, articles and reviews that are only available in the magazine pages of Astronomy Technology Today, we are offering a 1 year subscription for only $6! Or, for an even better deal, we are offering 2 years for only $9. Click here to get these deals which only will be available for a very limited time. You can also check out a free sample issue here.