iOptron's new LiteRoc 1.75″ tripod delivers high stability in a lighter, more compact package than its previous 2-inch version. It is now available for the iOptron AZ Mount Pro as well as iOptron's CEM25P and CEM25EC Mounts.
The LiteRoc 1.75″ Tripod features a 1.75-inch upper leg section with a 1.5-inch diameter lower section, resulting in a lighter tripod with stability similar to the previous version. It also has improved leg cuffs and sockets for more rigidity and redesigned leg lock levers. It has a height range of 30 – 46 inches.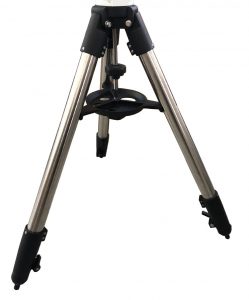 The new LiteRoc 1.75″ Tripod makes a desirable package when purchased with the iOptron CEM25P and CEM25EC mounts (Center-balanced Equatorial Mount), offering a whisper quiet and light weight mount which uses up to 60% less GOTO power consumption than other mounts in its category.
The mount's unique "Z" design puts the weight of the payload at the center of gravity allowing for greater natural stability. Given its payload capacity, this means the "Z" designed mount is unusually light, a nice benefit when setting up at a remote site. Other features include an adjustable counterweight bar to prevent obstruction with the tripod. Polar aligning is quick and accessible all the time since the polar scope is not blocked by the declination shaft.
And the CEM25 series mounts are equipped with the latest advanced Go2Nova GOTO technology, making them one of the most powerful and accurate GOTO mounts available with a database of over 150,000+ objects. The Go2Nova Hand Controller is intuitive to use and its large 4-line LCD screen simplifies the process of setting telescopes and locating objects.
The new LiteRoc 1.75″ Tripod is also a nice enhancement to the "level and go" capability of the iOptron AZ Mount Pro. Using the mount's built-in precision level indicator, you simply level the mount and turn on the power letting the computerized alt-azimuth telescope mount take it from there.
Utilizing the on board 32 channel GPS receiver and built-in position and angular detection sensors; the AZ mount Pro calculates its global position as well as the telescope orientation. Automatically the mount slews the instrument to an easily identifiable bright object in the night sky. The user need only confirm a bright object is in the center of the view, to activate tracking and GOTO functionality.
Check out iOptron's website to learn more.
And in other iOptron news, following up on the success of the iOptron CEM60 center balance equatorial mount, iOptron is announcing two new medium payload center balance mounts – the iOptron CEM70 and revolutionary CEM70G.