The folks at the Apache-Sitgreaves Research Center have decided they want to upgrade their systems and location and are providing a unique opportunity for someone looking to have their own a 36-inch telescope in the elevated deserts of northern Arizona with all the comforts of home.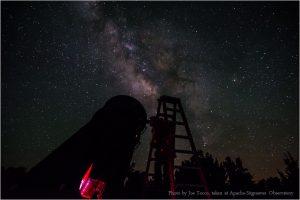 The complex consists of 3.35 acres of elevated desert at 6700-foot elevation with cactus among the pine, located in the small town of Overgaard in northern Arizona with dark skies (21.85 to 21.55 MPSAS). Included is a turnkey 36-inch F/4.5 computer-controlled telescope with all the available goodies.
While providing the isolation needed to provide excellent seeing, the property is conveniently located just 45 minutes to Interstate 40, 2 hours to Flagstaff, and 2.5 hours from Phoenix and Sedona.
The property's eastern side is 668 feet of Apache-Sitgreaves National Forest boundary line. So when you are not observing at night you can go hiking, camping, off-roading or horseback riding. Plus the park provides protection for dark skies today and decades from now. It's a rare chance to own a piece of property that has direct access to the National Forest.
The property is at the end of a Cul-de-Sac, with no traffic or dust, and, the front slope of exposed limestone is perfect for your walk-out basement home plan (an option to build) with a stand of trees between the road and house for privacy. A 1000-gallon green-tag septic rated for a three-bedroom home is already installed and electricity is already on the property.
The north end of the property has a barn site with a triangular horse corral area. There is another large level site, 40'x50′, on the circle drive currently used for parking or you can build a huge drive-through workshop. The observatory property has a nature park setting with a nice rock driveway with black pipe entryway railing installed, with stone paths and game trails throughout.
Included in the sale is a Keystone Springdale 27-foot RV camper with the couch and dinette in the slide-out, a 16×19 deck with 12×20 awning, an 8×8 spa building, 4×8 hot water shower building with skylight (RV 6-gallon hot water tank) and 4×4 restroom building (ceramic corner-mount sink), also with skylight and tied to the septic, and, both operating on solar power (50-watt solar panel and single deep cycle battery). Additionally, there is a 6'x8′ greenhouse.
The 36-inch f4.5 telescope uses Argo Navis and ServoCAT for automated GoTo's. The observatory it is housed in is a Roll Back Building (unlock and open the south doors, push a button, and the entire building rolls back towards the north), and the telescope and building operate entirely on solar power (360 watts of solar panels and 10 deep cycle batteries). Cabling is set up for moto-focus, camera control, auto guide through ServoCAT. Collimation of the scope uses a 20-foot cable plugged into the control box actuating the electric motors, solo from the focuser. The entire system can easily be setup and operated by one person.
The property is being offered at $400,000US. Close to town yet away from it all. Beautiful, rugged terrain to put your dream home and enjoy astronomy.