The Lunt 40mm Solar Telescope is the smallest and most portable of the company's dedicated solar telescope line. This true grab and go hydrogen alpha telescope will deliver excellent views for years to come.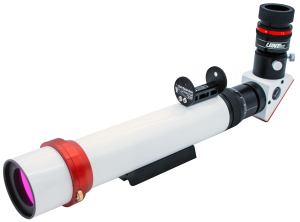 One of the best things about this great little, high performing scope is it is priced at only $599US – less than the price of some higher end eyepieces!
You check out a video review at the end of this article by popular YouTube reviewer Dylan O'Donnell.
The Lunt 40mm Solar Telescope provides the basic essentials perfect for a first time introduction to solar observing. A true grab and go dedicated hydrogen alpha telescope, the Lunt 40mm F/10 system is sure to impress allowing both beginning and seasoned amateur astronomers to experience the awe inspiring phenomena of our closest star.
Easily portable and easy to use, the Lunt 40mm is the company's smallest aperture offering, while providing the power, amazing detail and quality you expect from a Lunt Telescope – all at an impressive ~4.0mm Solar Image Size!
The Lunt 40mm hydrogen alpha telescope includes a non-rotating helical focuser (upgradeable to Feather Touch focuser), integrated Vixen style dovetail, and B500 Blocking Filter for both visual and photography purposes. In addition to B500 standard (5mm) blocking filter configuration for $599US, buyers can upgrade to the B600 (6mm) blocking filter ($674US) or B1200 (12mm) blocking filter $899US).
Lunt 40mm Solar Telescope Specifications include:
– System Wavelength: 656.28nm. Hydrogen-alpha (tuneable, dedicated)
– System Focal Length: f10
– Sun Image Size: 3.67mm
– Objective: Precision Doublet (Optimized at 656nm)
– Blocking Filter: 5mm standard (upgradeable to 6mm or 12mm)
– Etalon Size: 40mm full aperture precision Lunt Etalon
– Etalon Peak Transmission: >88%
– Etalon Net Finesse: 19
– Etalon FSR (Free Spectral Range): 12 Angstroms
– Etalon Tuning: Conventional Tilt through +/- 1 Angstrom
– Etalon FWHM (Bandpass): <0.65 Angstrom
– Weight of Telescope: 2.8lbs
Additional Features:
– Integrated Vixen Style dovetail plate (included) with integrated 1/4-20 tapped holes in base for camera mounts
– Non-rotating helical focuser (included) (upgrade to FT available)
– Sol-Searcher (Included)
– DS (Doublestack) available by pre-order soon (price to be determined)
– Fitted Foam
– Color: Pearl White with Black and Red accents
Suggested Accessories:
– Hard Case
– Lunt Zoom Eyepiece
– Lunt 19mm Eyepiece
– 6mm or 12mm (imaging) Blocking Filter
– Doublestack Filter available by pre-order soon (price to be determined)
– Solar Tracking Mount
You can learn more about the new Lunt 40mm Solar Telescope and about solar observing and imaging at the Lunt website.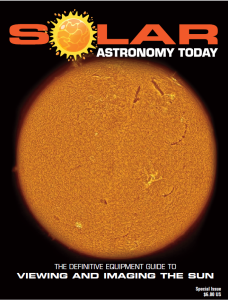 The sun is more active than its been in years! If you'd like to learn more the technology behind solar observing, solar imaging and more, you can check out our free publication, "The Definitive Guide to Viewing and Imaging the Sun". You don't have to sign up or provide any information, simply click here and enjoy reading!