Avalon Instruments has released a new version of its M-zero LHQ Telescope Mount specifically designed for use in low latitude areas down to 0 degrees. The new M-zero LHQ mount follows the tradition of previous M-zero versions and offers the perfect lightweight and portable instrument for travelling astronomy. The M-zero LHQ comes with four degree ranges available: 0° – 15°; 15° – 45°; 30° – 55°; and 55° – 70°.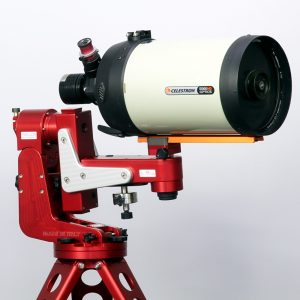 The M-zero LHQ provides the ability to move the DEC arm up and down on the RA axis in 6 different positions depending on the user setup. This provides the ability to allow fine balancing by using the least amount of counterweights possible. In most cases this means using less than 1 kg (2.2 lb) counterweights.
Thanks to the Dual-DEC system (or by utilizing the optional Avalon Instruments X-guider accessory), it is possible to mount a second telescope in the opposite side of the declination axis. This creates the possibility to use a great range of optics starting from a small refractor up to a double setup with a total weight of 12-13 kg (26.4-28.6 lb).
Thanks to the mount's StarGO GoTo Control System the M-Zero can be controlled by smartphone and tablet via Bluetooth or WiFi connection.
The M-zero LHQ Telescope Mount is made entirely from CNC anodized aluminum. The mount weighs only 6 kg (13.2 lb) and when combined with Avalon Instruments new T-Pod 90 tripod, reaches a total weight of only 12 kg (26.4 lb).
The mount's Fast-Reverse Belt Drive System offers zero backlash and the StarGO GoTo control system allows for excellent performance with guided long exposure images, even while using very long focal length telescopes.
Polar alignment can be performed by using the polar scope mounted on the RA body that can be rotated to the upper position for comfortable adjustment of polar alignment.
The M-zero LHQ Telescope Mount specifications include:
– Type: Equatorial Single-Arm mount
– Weight: 10.1 kg (22.2 lb)
Capacity: Single Telescope 8 kg (17.6 lb); Double Telescope 13 kg (28.6 lb)
– Transmission system: An all belt drive system based on a four-stage reducer. All the movements are on ball bearings. No maintenance and no backlash system. Pulleys are made with special polymer fiberglass charged and high precision toothed belts.
– Construction Material: Anodized aluminum, made from single blocks with high precision 5 axis CNC machines.
– Polar Finder: Celestron model
– GOTO system: StarGO GoTo Control System WiFi version
– Counterweight: 0.5 kg (1.1 lb)
– Scope plate: Vixen style
– Warranty: 2 years from the purchase date, extended to 5 years for the transmission system
Avalon Instruments is now also offering an adapter kit that provides the ability to attach an iOptron iPolar e-Polarscope to Avalon M-uno and M-zero mounts, including Avalon's M-zero LHQ Telescope Mount.
You can learn more on the Avalon Instruments website.