MallinCam is now offering a new lower price of $799US for itsMallinCam SkyRaider DS2.3 Plus video/imager/autoguider.  Part of the MallinCam SkyRaider family of astronomical video cameras, the DS2.3 Plus incorporates the Sony Exmor CMOS sensor to deliver the high sensitivity needed for astronomical observation and imaging.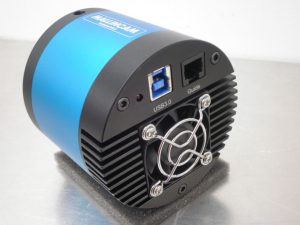 The MallinCam SkyRaider DS2.3 Plus camera is designed to be one of the most versatile video/imaging camera MallinCam has ever created for computer use, ready for the most demanding applications in video astronomy and excelling at live observing of both deep-sky and solar-system objects. All astronomical targets can be observed live, while images are captured or while video is recorded simultaneously.
In fact, the camera performs so well it was used by NASA to stream the 2017 eclipse on NASA.TV.
The MallinCam SkyRaider DS2.3 Plus utilizes a 2.38-megapixel, ceramic CMOS sensor. Measuring 13.4 mm diagonally, this sensor is larger than a 1/2 inch-type sensor. The camera delivers high-resolution images using all telescope types. A standard focal reducer can be incorporated to further increase the field of view needed for those spectacularly large astronomical objects. The Exmor sensor offers very high sensitivity in the near-infrared light region and utilizes square 5.86-µm unit pixels with high signal-to-noise ratio.
Using USB 3.0 technology, the MallinCam SkyRaider DS2.3 Plus delivers fast download speeds – near instantaneous to the computer – perfect for displaying live images, capturing long-exposure images, or recording uncompressed video files. A fan-assisted passive cooling system ensures sensor temperature stability and a super-low noise ratio.
Sensitivity of the camera's Sony Exmor sensor is augmented by incorporating CDS (correlated double sampling) procedures. This feature ensures that the SkyRaider DS2.3 is perfect for astronomy and other dark-field applications, as well as brighter field applications such as lunar, planetary and solar observing.
The MallinCamSKY software application's dark frame-correction feature eliminates the need of an internal Peltier cooler (TEC). This results in the necessity of only a single cable from the camera to the computer's USB 3.0 port. The dark field-correction feature removes all hot pixels, warm pixels and dark-current noise – on the fly – making the SkyRaider DS2.3 the ideal choice in the field or in an observatory. This dark-frame correction technology has now been implemented by MallinCam for all of its SkyRaider-series cameras.
Features and specifications of the MallinCam SkyRaider DS2.3 Plus include: Built-in memories; 1920×1200 effective pixels; hand-selected, Class-0 scientific-grade sensor; sealed multi-coated optical window; up to 30 frames per second at 1920×1200; ST4 standard protocol guiding; all-aluminum, precision-CNC construction; handcrafted electronics assembly; 1.25-inch adapter included, high-grade 5-meter USB 3.0 cable included; weighs 429 Grams (15.10 ounces); and measures 3.1 inch (78.7 mm) in diameter and 3.25 inches (82.6 mm) long.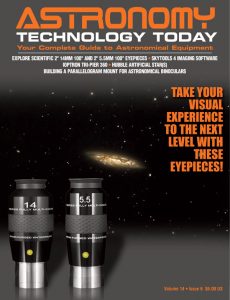 And to make it easier for you to get the most extensive telescope and amateur astronomy related news, articles and reviews that are only available in the magazine pages of Astronomy Technology Today, we are offering a 1 year subscription for only $6! Or, for an even better deal, we are offering 2 years for only $9. Click here to get these deals which only will be available for a very limited time. You can also check out a free sample issue here.