With a 16 bits A/D converter, the new MallinCam SkyRaider DS26c/mTEC is a video equipped camera with the new Sony Industrial  26.1 megapixels, back illuminated IMX571BQR-J, APS-C size, 28.3 mm (1.8 type) diagonal, 80% QE high performance CMOS sensor.
Having 3.76 X3.76 microns pixels with no amp glow, this new deep sky camera is a must to own for those who want to take advantage of just a few seconds of exposure to get their favorite deep sky targets live on the screen, to capture video of their observations with the widest field of view possible and for imaging.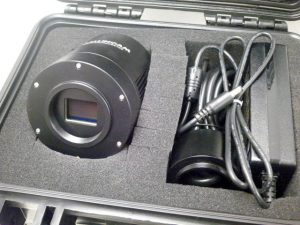 The unique cooling system is the same as other SkyRaider cooled cameras. MallinCam has successfully design a cooling chamber called refrigeration cooling – which subjects the CMOS sensor to cooling inside a triple sealed vacuumed sensor chamber controlled with a heating element mounted around the internal optical window to control and avoid dew formation on the optical window and surroundings. A vacuumed sealed chamber is used to eliminate the use of desiccant material and keep dew free environment permanently.
The Sony IMX571BQR-J Class 1 CMOS sensor is industrial grade and made to work at 100% duty cycle making this CMOS sensor run all night with top imaging performance. It is available in a color version as well as a monochrome edition for those purists who demand mono performance and increased sensitivity. It is powered with a diagonal of 28.3 mm (Type 1.8) CMOS active pixel type solid-state image sensor with a square pixel array and 26.11 M effective pixels. This chip features a rolling shutter with variable charge-integration time.
Each MallinCam SkyRaider DS26c/mTEC camera is subjected to a 24-hour burn-in prior to being ready for shipment to insuring proper operation.
Included with the camera package is a 5 meter (15 feet) USB 3.0 Cable, 2″ to T mount adapter,  AC power supply, high grade carrying case, and MallinCam's MallinCamSKY software. The camera is now in limited production and available now for order.
MallinCam SkyRaider DS26c/mTEC features and specifications include:
– Free Software and Updates
– Convection Cooling
– Refrigeration Chamber
– Vacuumed Sealed Chamber
– Linear Cooling
– Built-in Heater for Optical Window Dew Removal and Chamber Temperature Control
– Built-In USB2 hub for Guider, Focuser, Filter Wheel etc.
– Four Blue LED Status Indicators ( Power, System, Cooler, Fan)
– High velocity Ultra Quiet Fan With Dual Air Output
– High Grade Carrying Case
– 4Gb DDR3 Internal Memory for Smooth Data Transfer
– Sony IMX571BQR-J color Class 1 Hand Picked CMOS Sensor (Scientific Grade)
– Back Illuminated CMOS sensor
– 80% QE
– Pixel Size: 3,76X3,76 Microns.
– APS-C size
​- 17.5 mm Back Focus
– Over 3000 mv Output Color @ f/5.5, 1/30 sec,
– Spectral Range: 350nm to 1100nm.
– No Amp Glow
– HCG and LCG Mode (High Conversion Gain, Low Conversion Gain Selectable)
– High S/N Ratio
– 28.3 (type 1.8)mm Diagonal Sensor Size
– Digital Binning Mode:  1 x 1, 2 x 2, 3 x 3, 4 x 4, 5 x 5, 6 x 6, 7 x 7, 8 x 8 All in Color
– Rolling Shutter
– Image Format, FITS, JPEG, BMP, PNG
– Full Video Mode: AVI, SER
– Vacuumed (Negative Air Pressured) Sealed Optical Window
– T Mount
– USB3  Operation for Data and Camera Control
– One 12 Volt DC Power Cable for Cooler
– Precision All Aluminum Construction and Stainless Steel hardware
– 10.0 cm X 8.00 cm (3.93 Inches X 3.14 inches)
– 535 Grams / 1.1795 Pounds
– High Speed USB 3.0
– 5 Volt Operation @1000 ma.
– 12 volts DC Cooling Via Supplied A/C Power Supply.
You can learn more here.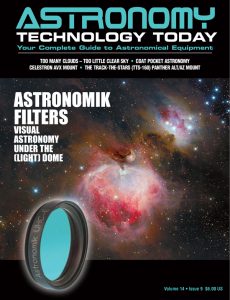 And to make it easier for you to get the most extensive news, articles and reviews that are only available in the magazine pages of Astronomy Technology Today, we are offering a 1 year magazine subscription for only $6! Or, for an even better deal, we are offering 2 years for only $9. Click here to get these deals which only will be available for a very limited time. You can also check out a free sample issue here.