An updated version of their Meade LX200 Classic Boot Emulator with Joystick is now available from Clearline Technology Corporation who uses modern materials, components, and processes to create replacement parts for the venerable Meade Instruments LX-200 telescope. Among its current lineup are the Motor Encoder Board – LX200 Classic/LXD650/LXD750; Calibration Tool for LX200 Motor Encoder Board; and a Boot-Up Emulator for the Meade LX200 Hand Controller.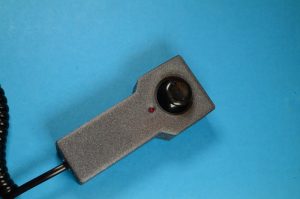 The Meade LX200 Classic Boot Emulator with Joystick emulates the start-up handshake from the hand controller, so that the telescope can complete its start-up tests and respond to RS232 commands, without the actual hand controller being present.
This device, when  plugged into the "Keypad" jack, appears to the telescope as the Meade hand controller during initialization. This allows the telescope to complete its start-up process and ready itself for receiving commands over the RS-232 port. It includes a joystick to control direction and movement speed. It works with 8″, 10″, and 12″ LX200 "Classic" telescopes, and LXD650/750 mounts with version 3.xx software.
This is an upgraded emulator from Clearline's previous version that includes a joystick for N-S-E-W movement. It has two speed ranges, each with two speeds controllable via how far you move the joystick. Ranges can be toggled by clicking on the joystick. In a nutshell, it allows you to point the scope while viewing through the eyepiece.
Clearline also recently released a new LX200 USB Serial Port Adapter which is compatible with any USB-A to USB-B cable, since those are often on hand and available in many lengths, even up to 50′ with repeaters. The USB-B connector is also tight and secure. The company uses an FTDI USB-to-Serial chip and an RS-232 level shifter. The drivers for the FTDI chip are usually already present in updated computers, but also available on their website if needed.
The adapter ships standard with a short RS-232 cable. The company can also ship the adapter with a longer RS-232 cable. Each adapter is tested by communicating movement commands to an LX200 and querying it for RA/DEC etc.
Clearline also recently released its Motor Encoder Wheel and Mask which offers a replacement for the slotted wheel and mask that comprise the motor encoder inside the motor assembly's gearbox.
This is intended for repair of the LX200 Classic motor assembly where the wheel has been damaged. It includes the wheel as well as the mask which may have been lost or damaged during a previous repair attempt. It works with the 8″, 10″, and 12″ LX200 Classic telescope and the LXD750/LXD650 mounts.
The company also has several other repair parts and replacement kits for the For the 8″, 10″, and 12″ LX200 Classic telescopes (these may also fit the LXD750/LXD650 mounts). These include:
– IR Component Scaffolds: Pre-tested assemblies, with wiring harness and PC boards, mounting two IR LEDs and two IR phototransistors, replacing the parts originally provided on one RA or DEC motor encoder housing. These help make replacement easier and avoid stress on leads. Sold as a set.
– Replacement Capacitor Kit: Set of 6 electrolytic capacitors to replace 5 original 25V tantalum capacitors (one extra). The capacitors are 6.8 uF, rated at 50V. Includes brief instructions.
– Replacement Optical Components: Set of IR LEDs with the corresponding phototransistors. These replace the optical components in the RA and DEC motor encoders. Includes 4 ea. Ligitek LIR2043, and 4 ea. Ligitek LPT2023, enough for both motor assemblies.
For more information on the Meade LX200 Classic Boot Emulator with Joystick visit here.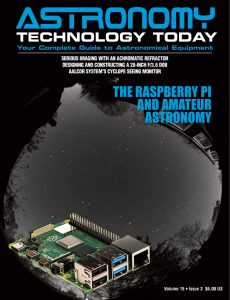 And to make it easier for you to get the most extensive news, articles and reviews that are only available in the magazine pages of Astronomy Technology Today, we are offering a 1 year magazine subscription for only $6! Or, for an even better deal, we are offering 2 years for only $9. Click here to get these deals which only will be available for a very limited time. You can also check out a free sample issue here.