Take great astro images with medieval technology? Sure! The Omegon Mini-Track mount does just that, using the same technology as the first mechanical clocks which were invented in Europe at around the start of the 14th century.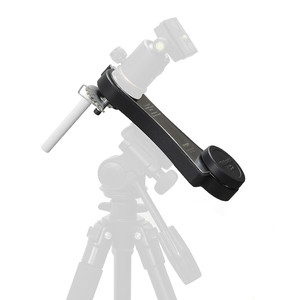 The Omegon Mini-Track mount is an instrument that almost guarantees successful astronomy photos when used with wide-angle and lightweight telephoto lenses. No matter where your trip takes you – the MiniTrack LX2 can accompany you to anywhere in the world (well, at least in the northern hemisphere!).
It works completely without batteries and will fit in any pocket. The advantages in a nutshell (pun intended!) include:
– take images of the night sky from anywhere in the northern hemisphere – successfully and effortlessly.
– never needs charging – works via clockwork, so is independent of batteries and power sockets.
– wind-up by pulling the cord and the mount will start operating immediately.
– optimal for overview shots of the starry sky and using telephoto lenses up to about 300mm.
– simply put onto a tripod and mount a camera of up to 2kg in weight.
The Mini-Track mount makes imaging as easy as possible. All you need is a tripod, the MiniTrack mount, a ball-head and your camera. Reduced to the essentials it still does the job – producing good astronomy photos that anyone can take. And it does exactly that!
The MiniTrack has a clockwork heart. A precision movement accurately tracks your camera. Wind-up the MiniTrack with its cord, like an analogue clock, and it will start tracking immediately and continue for 60 minutes. This mount will never flag, even in freezing conditions. Your new mount can even take a telephoto lens.
The MiniTrack is extremely compact and needs no accessories such as a counterweight. That is because it has already been built-in – in the form of a spring system. As your camera starts to be tracked, the spring both supports the weight and looks after the tracking. Take this mount in your luggage on flights and leave your main mount at home.
It is straightforward finding the Pole Star with the polar finder tube. This 'rough' orientation is sufficient to track your camera plus lens. Amazingly beautiful pictures are produced in a flash when carrying out a series of bracketing exposures.
The MiniTrack has two connectors – one for the tripod and another for your camera or ball-head. Simply attach the mount to your tripod as usual using the 1/4″ screw and align the MiniTrack as you like. Alternatively, you can mount a ball head with the 1/4″ or 3/8″ thread.
The MiniTrack mount was developed by Cristian Fattinnanzi from Italy. Omegon has taken over the distribution to make it accessible to a wider circle of photographers and nature lovers.
And you also might be interested in the Nyx Tracker. This mount that also provides a compact and portable motorized barn door star-tracking astrophotography mount designed for those who want affordable and accurate widefield tracking.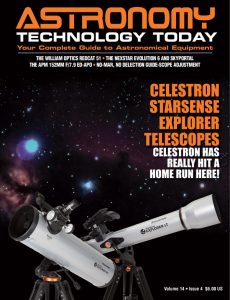 And to make it easier for you to get the most extensive news, articles and reviews that are only available in the magazine pages of Astronomy Technology Today, we are offering a 1 year magazine subscription for only $6! Or, for an even better deal, we are offering 2 years for only $9. Click here to get these deals which only will be available for a very limited time. You can also check out a free sample issue here.