A new partnership between the Montana Learning Center, located at Canyon Ferry Lake, just outside of Helena, Montana, and the University of North Carolina at Chapel Hill, will bring into focus faint stars and galaxies, and distant smudges of color from clouds of gas and dust found deep in space.
This partnership will allow students and teachers who participate in the Montana Learning Center's programs to access prominent observatories around the world, such as the Cerro Tololo Inter-American Observatory in Chile, Siding Springs Observatory in Australia and Green Bank Observatory in West Virginia.
"Being a part of the Skynet Robotic Telescope Network through the University of North Carolina at Chapel Hill allows us to be on an international stage," said Ryan Hannahoe, Executive Director of the Montana Learning Center. "It's a wonderful opportunity for us to serve not only students and teachers from across Montana, but also students and teachers around the world."
"It's amazing for us to be able to provide access to state-of-the-art research grade equipment to students and teachers alike," he continued. "This truly makes astronomy accessible to all."
The Skynet Robotic Telescope Network is a global community of fully automated, or robotic telescopes serving professional astronomers and students and teachers at all levels, ranging from elementary school to graduate studies. Its telescopes span four continents and have provided more than 16 million images for tens of thousands of users. It also provides self-paced courses at minimal or no expense for people interested in astronomy.
Teachers who were enrolled in the Montana Learning Center's spring course through Montana State University are now using the Center's remote telescope, located on a 7,300 foot peak in New Mexico, as part of the Skynet network, Hannahoe said. In return for the use of Skynet's proprietary software for robotic telescopes, the Montana Learning Center contributes to Skynet a portion of its robotic telescope time at New Mexico Skies Remote Observatories. The Center's robotic telescope time in New Mexico is supported by the generosity of Mike & Lynn Rice and Christian Perez.
Dan Reichart, the architect of Skynet and its director, said "We're very excited about this addition to Skynet. We'll be using our telescope time to search for counterparts to gravitational-wave events and for student use." This is also our first telescope in the southwest United States, which is advantageous to both these efforts," he added.
Reichart joined the University of North Carolina in 2002 after receiving Master of Science and Doctorate degrees in astronomy and astrophysics from the University of Chicago in 1998 and 2000. He also won a prestigious Hubble Postdoctoral Fellowship which he took to the California Institute of Technology. In 2005, he and his students discovered the most distant explosion in the universe, which occurred 12.9 billion years ago when the universe was only 6% of its current age.
The Skynet Robotic Telescope Network is supported by the National Science Foundation, which is an independent federal agency created by Congress in 1950; NASA, which was born in response to early Soviet space achievements; and the generosity of private donors.
The collaboration between the Montana Learning Center and Skynet is the product of discussions that occurred during a National Science Foundation funded project that took Hannahoe and Peter Detterline to the Andes Mountains in Chile where Skynet has a number of telescopes. Detterline is the lead astronomy educator at the Montana Learning Center. He has been honored by the Astronomical Society of the Pacific for exceptional achievement related to teaching high school astronomy.
View the Montana Learning Center's Skynet Observatory Portal here and the Skynet Telescope Portal here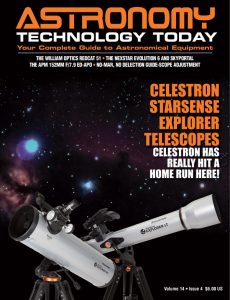 And to make it easier for you to get the most extensive news, articles and reviews that are only available in the magazine pages of Astronomy Technology Today, we are offering a 1 year magazine subscription for only $6! Or, for an even better deal, we are offering 2 years for only $9. Click here to get these deals which only will be available for a very limited time. You can also check out a free sample issue here.