The Rockland Astronomy Club (RAC) has announced the NEAF Telescope Expo will again be offered virtually. "NEAF: The Virtual Experience" will be held on April 10. Livestream starts 10am – 8pm EST (7am – 5pm PST).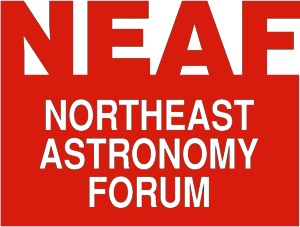 Attendees to the virtual online event will experience product demonstrations, door prizes, and amazing speakers that have made the Northeast Astronomy Forum legendary. Among the featured guests are Charlie Duke, Apollo Moonwalker; Tom Stafford; Apollo 10, Gemini 6, Gemini 9; Apollo Mission Control members Gerry Griffin, Jerry Bostic, John Aaron & Ed Fendell; and Alan Stern of New Horizons and Beyond.
The Rockland Astronomy Club is working on scheduling dates for NEAF 2022 which will again be an in-person event.