Clearline Technology Corporation uses modern materials, components, and processes to create replacement parts for the venerable Meade Instruments LX-200 telescope. Among its current lineup are the Motor Encoder Board – LX200 Classic/LXD650/LXD750; Calibration Tool for LX200 Motor Encoder Board; and a Boot-Up Emulator for the Meade LX200 Hand Controller.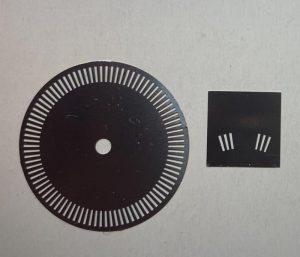 A new addition to its product offering is its Motor Encoder Wheel and Mask which offers a replacement for the slotted wheel and mask that comprise the motor encoder inside the motor assembly's gearbox.
This is intended for repair of the LX200 Classic motor assembly where the wheel has been damaged. It includes the wheel as well as the mask which may have been lost or damaged during a previous repair attempt. It works with the 8″, 10″, and 12″ LX200 Classic telescope and the LXD750/LXD650 mounts.
As the company notes, "These admittedly fit a very specialized need, but if someone is looking for this, we want them to know we offer it."
The company also has several other repair parts and replacement kits for the For the 8″, 10″, and 12″ LX200 Classic telescopes (these may also fit the LXD750/LXD650 mounts). These include:
– IR Component Scaffolds: Pre-tested assemblies, with wiring harness and PC boards, mounting two IR LEDs and two IR phototransistors, replacing the parts originally provided on one RA or DEC motor encoder housing. These help make replacement easier and avoid stress on leads. Sold as a set.
– Replacement Capacitor Kit: Set of 6 electrolytic capacitors to replace 5 original 25V tantalum capacitors (one extra). The capacitors are 6.8 uF, rated at 50V. Includes brief instructions.
– Replacement Optical Components: Set of IR LEDs with the corresponding phototransistors. These replace the optical components in the RA and DEC motor encoders. Includes 4 ea. Ligitek LIR2043, and 4 ea. Ligitek LPT2023, enough for both motor assemblies.
For more information visit www.clearline-tech.com.