The NexStar Evolution 8 HD 60th Anniversary telescope from Celestron celebrates the best of Celestron's past and present. The company is only producing 600 units to commemorate it 60 year anniversary this year. Each telescope includes an individually numbered certificate of authenticity signed by CEO Corey Lee and Celestron pioneer Alan Hale. This limited-edition scope is sure to become a valuable addition to your astronomy collection.
60th Anniversary Highlights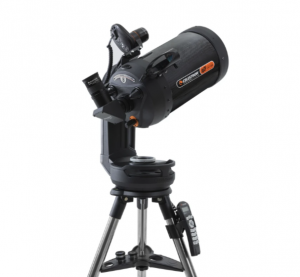 The NexStar Evolution 8 HD 60th Anniversary telescope mount stays true to its name and keeps evolving; it's been updated with unique features for this limited edition. The Evolution mount is paired with 8" EdgeHD optics – inside a carbon fiber tube for the first time ever. You also receive the StarSense AutoAlign accessory, three eyepieces (including one 2" eyepiece), and lots of other upgrades that make this a versatile and portable telescope system.
The twill weave carbon fiber optical tube evokes Celestron's iconic carbon fiber tubes of decades past. But it's not just for looks – the carbon fiber is resistant to thermal expansion, which helps the optical system maintain focus as the ambient temperature changes.
You'll find a vintage nameplate on the mount's base with the telescope's individual serial number. You'll also find retro style labeling and nameplates on the optical tube. The fork arm features a slot to accommodate a magnetic, interchangeable 'spinner' emblem. You'll receive a total of 3 emblems to swap out depending on the night or your mood. Designs include: Celestron's current logo, the 60th anniversary logo, and the vintage 'hamburger' logo.
NexStar Evolution 8HD Highlights
The innovative NexStar Evolution 8 HD 60th Anniversary telescope is a compact, portable, and mechanically solid telescope made for hours of serious visual observing and certain types of astroimaging. The NexStar Evolution HD package stands out due to its unique features, including:  StarSense AutoAlign, EdgeHD optics, integrated WiFi, and its internal LiFePO4 battery. Here are just a few highlights:
–  NexStar Evolution 8 60th Anniversary Edition – Only 600 units will be produced, each with a unique serial number and certificate of authenticity signed by Celestron pioneer Alan Hale and CEO Corey Lee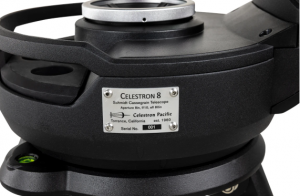 – Carbon fiber 8" EdgeHD Optical Tube – Carbon fiber minimizes thermal expansion with ambient temperature changes while EdgeHD optics provide superb visual and astroimaging performance free of coma and field curvature.
– Retro details and all-new look with vintage-style badging and logos and a set of 3 interchangeable commemorative "spinner" emblems.
– Rechargeable lithium-iron phosphate battery with enough power for 10 hours of continuous observing.
– Built-in WiFi with no hand control required! Use your smartphone or tablet to control the telescope via WiFi.
– StarSense AutoAlign automatically aligns your telescope in about 3 minutes.
– Fastar compatible so you can image deep sky objects at f/2, often eliminating the need to autoguide or track on a wedge.
– NexStar Evolution mount packed with convenient features including a USB charge port, adjustable lighting, precision machined worm gears for both axes, and more,
– Accessories included: three quality eyepieces – 32mm (2″), 9mm and 15mm (1.25″), StarPointer Pro finderscope, StarSense AutoAlign, 2″ Star Diagonal w/1.25″ adapter, spinner emblems, and a certificate of authenticity individually numbered and signed by Celestron pioneer Alan Hale and CEO Corey Lee.
8" EdgeHD Optical Tube
EdgeHD is an aplanatic, flat-field Schmidt optical system that produces aberration-free images across a wide visual and photographic field of view. The optical system reduces more than just off-axis star coma; it provides an astrograph-quality flat focal plane all the way to the edge of the field of view.
EdgeHD optics produce a focal plane more than three times flatter than a standard Schmidt-Cassegrain telescope and dramatically flatter than competing coma-free designs. This guarantees you visibly sharp stars across full frame sensors.
The 8" EdgeHD flat-field and coma-free optical tube was made to accommodate modern imaging with cameras of all types, especially larger format CCD and DSLR cameras. The EdgeHD optical tube is Fastar-compatible for ultra-fast f/2 wide field imaging with an optional, third party lens assembly.
Superior edge performance not only creates rounder, more pleasing stars, but actually improves the resolution and limiting magnitude compared to telescopes of equal aperture. Celestron's high definition optics let you resolve smaller spot sizes all the way to the outer edge, revealing finer detail and greater contrast.
What's more, EdgeHD optics give you smaller, more concentrated stars so you can see fainter magnitudes than with other equally-sized telescopes. Poor edge quality can spread out starlight so much that the brightness of a star appears the same as the sky background, making it undetectable to your eye or camera. With EdgeHD optics, you can capture the faintest of galaxies all the way to the corner of your full-frame camera chip.
The EdgeHD tube features an innovative mechanical design to ensure you get the most from your optics each and every night. Flexible tension clutches hold the primary mirror in place and reduce image shift. The flexible rods hold the mirror in place without putting any force or pressure on the mirror assembly, keeping your target centered in the eyepiece or chip. Cooling vents located on the rear cell allow hot air to be released from behind the primary mirror. Each vent has an integrated micromesh filter guaranteed to let warm air out without letting dust in.
EdgeHD is the most versatile imaging telescope available today. At its native f/10, you can achieve the image scale necessary to capture the smallest of deep-sky objects. To increase your field of view without sacrificing performance, add the optional EdgeHD reducer lens. Each one is custom-made for your size EdgeHD optical tube and brings your focal ratio down to f/7. A Barlow lens provides additional magnification for high-resolution planetary, lunar, and solar imaging.
And all EdgeHD optical tubes are Fastar-compatible for ultra-fast f/2 wide field imaging. Each EdgeHD tube is fitted with a removable secondary mirror and is opto-mechanically aligned on a laser bench to ensure it is axially symmetric in any configuration.
Edge HD's precision-machined mechanics and a spherical secondary mirror make collimation simple and accurate.
Perfect for Visual Use or Astroimaging
The NexStar Evolution 8 HD 60th Anniversary telescope is an excellent instrument for those looking to explore astroimaging. It's the only fork-mounted telescope in its price range that offers brass worm gears along with improved motors, which provide great tracking accuracy. Capture images of the Moon and planets by attaching any planetary imaging camera. You can even experiment with imaging brighter deep-sky objects like the Orion Nebula with your DSLR camera.
As you progress in the hobby of astroimaging, turn your alt-azimuth mount into equatorial setup by adding the Wedge for NexStar Evolution. This accessory will enable you to achieve longer exposures for more detailed astrophotos. The NexStar Evolution mount also features a built-in lithium-iron phosphate (LiFePO4) battery with enough power for 10-hour astroimaging sessions.
Accessories Included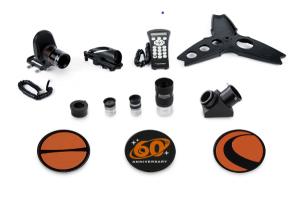 The NexStar Evolution 60th Anniversary Edition is unique among Celestron computerized telescopes because it includes more than one eyepiece. You receive 3 high quality eyepieces—a 2" E-lux 32mm, a 1.25" Omni 15mm, and a 1.25" Omni 9mm. This eyepiece collection is robust enough to view most any celestial object right out of the box.
What's more, your telescope includes a 2" Star Diagonal with 1.25" adapter, the StarSense AutoAlign accessory, and a StarPointer Pro finderscope. The StarSense AutoAlign comes with a hand control, but thanks to the internal WiFi and SkyPortal app, use of the hand control is completely optional.
An optional Barlow lens can provide additional magnification for high-resolution planetary, lunar, and solar imaging. To increase your field of view without sacrificing performance, add the optional EdgeHD reducer lens, bringing your focal ratio down to f/7.
StarSense AutoAlign in the SkyPortal App
StarSense AutoAlign helps you optimize your time outdoors, giving you back time you would have spent aligning your telescope and allowing you more time to observe. It scans the night sky and analyzes the star patterns overhead, automatically calculating the telescope's precise location, the date, and the current time. What's more, you can add up to 10 additional alignment stars for the most accurate alignment possible. This sought-after add-on accessory is included in the 60th anniversary telescope kit.
Because StarSense AutoAlign is paired with the Evolution mount, you get even more functionality and ease of use. Connect to the mount via the SkyPortal mobile app and you can perform the automatic alignment directly from your smart device, then instantly direct the telescope to slew to your first celestial object.
Celestron PWI Telescope Control
All current Celestron computerized telescopes include Celestron PWI (CPWI), one of the most advanced astronomy software offerings offered with any consumer-grade telescope. Celestron's experts co-developed CPWI with the engineers at PlaneWave Instruments. The result is an all-in-one solution offering you many of the same features used on PlaneWave's observatory-class telescopes including:
– Graphical planetarium interface with PointXP advanced mount modelling allows you to add 100+ points to your alignment model for the most accurate pointing and tracking possible.
– Ideal for remote observatory setups: save and re-load your alignment and park your scope.
– Provides a complete ASCOM telescope interface to allow control of the telescope from third party software applications.
For more information on CPWI and to see the user interface, click here.
Starry Night Software
Also included with your purchase is a free download of Celestron's Starry Night Special Edition Software. This advanced software by Simulation Curriculum offers detailed information about celestial objects and helps you plan your next observing or imaging session. The Special Edition software also includes telescope control via your PC. For more information, click here.
Availability
Shipments of the telescope are starting to be made available now. As described here the suggested retail price is $ $2,599US. You can get the limited edition NexStar Evolution 8 HD 60th Anniversary Telescope from Celestron or your favorite Celestron dealer.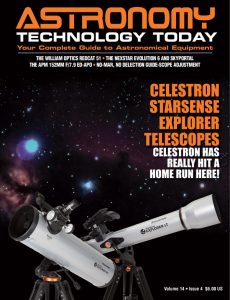 And to make it easier for you to get the most extensive telescope and amateur astronomy related news, articles and reviews that are only available in the magazine pages of Astronomy Technology Today, we are offering a 1 year subscription for only $6! Or, for an even better deal, we are offering 2 years for only $9. Click here to get these deals which only will be available for a very limited time. You can also check out a free sample issue here.