The Omegon Pro Apochromats lineup has been supplemented and enhanced new generation of equally stylish and powerful apochromats that offer extremely high performance. Omegon's new apochromats were developed for ambitious astrophotographers who want to take brilliantly-sharp photographs of the universe.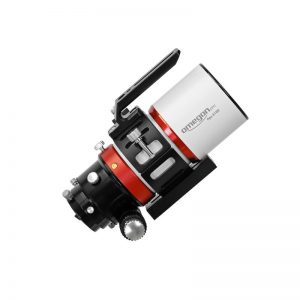 These Omegon Pro Apochromats deliver superb image sharpness and wonderful contrast across the entire field and will help you take the perfect photo. These instruments are equipped with ED lenses, integrated correctors, CNC tubes and large focusers. All for stunning image sharpness.
Whether it's a compact 61mm instrument for travel or a 140mm flagship model, you can choose from a range of options to suit your specific mount and needs. You can also choose between doublet, triplet, quadruplet and quintuplet apos, models with two, three, four or even five lenses.
Many of these instruments can also be ordered with an individual optical test report;  a seal of quality for your telescope that also permanently increases its value.
Here is the fleet of the Omegon Pro Apochromats at a glance:
Apo 61/335 ED Doublet OTA
A portable and compact apochromat,  the 61mm apo is small, yet it features a high quality 2.5″ focuser with a 1:10 reduction. Even at this size, it's all premium quality.
Apo 61/274 ED Doublet OTA
Large optics aren't always crucial because there's no substitute for a dark and crystal-clear sky. But this can sometimes be cumbersome to access with large optics. If you like to travel and shoot large-area objects, you will love the 61/274 ED Doublet.
APO 72/400 Quintuplet ED OTA
Perfect, true-color images of ultra-sharp stars right to the edges: The 72/400 Quintuplet achieves this with ease. With a total of five lenses, two of which are ED lenses, it offers exceptional contrast with a fully-corrected and flat field of view.
APO 76/342 Triplet ED OTA
This apo will accompany you wherever your journey takes you. Weighing in at just 4 kilograms and only 333 millimeters long, this telescope can also be used with travel and mini mounts. This telescope is a true master of its craft when it comes to wide-field images and targets, such as the Andromeda galaxy. The 76mm triplet also makes an excellent telephoto lens for nature photography.
APO 76/418 Triplet ED OTA
Like the previous apo, this one also delivers an impressive image, but with a slightly longer focal length. Both 76mm units have a 3″ rack and pinion focuser with a 1:10 reduction.
APO 80/500 Triplet ED OTA
An apochromat with a clear and true-color image, even at very high magnifications. The beautifully-crafted focuser is 2.5″, larger than that of most 80mm telescopes. The advantage: so much illumination that even your full-frame camera will have fun with it.
APO 94/517 Triplet ED OTA
The 94mm aperture allows you to photograph astronomical objects and celestial events quickly and easily. The 94/517 Triplet is superbly-crafted and features two ED elements within the triplet design. This produces a clear and true-color image of bright stars or the lunar limb. This telescope also cuts a perfect figure for visual observation at high magnifications. Definitely a hot tip for apo lovers.
APO 100/580 Quadruplet ED OTA
This quadruplet apochromat has four lens elements. It offers both superb imaging and a corrected flat field of view. This means that you no longer need to adapt any correctors, because the optics already reveal sharp stars right to the edges. The 3.5″ focuser provides plenty of options for connecting other accessories. This apochromat also fully illuminates the field of view of full-frame cameras.
APO 121/678 Quintuplet ED OTA
With five lenses for stunning images, the 121/678 is not only fast, but also offers outstanding optical performance. What does that mean? A triplet apo lens for true-color images and an additional two-lens flattener for a flat field. With 60mm field illumination, this telescope is also perfectly suited for very large sensors. An immense backfocus of 145mm and a 4″ focuser offer the possibility to connect heavy cameras and various accessories.
APO 140/910 Triplet ED OTA
A triplet apochromat with two ED lenses at the front and rear of the objective.  It provides exceptionally-good color correction. With a 4″ R&P focuser and 44mm image circle, this telescope is also suitable for full-frame cameras. A premium instrument for anyone who cares about luminous intensity.
You can learn more about the Omegon Pro Apochromats here.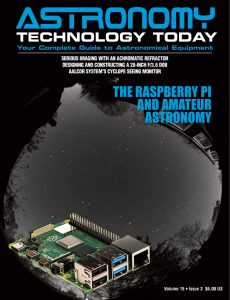 And to make it easier for you to get the most extensive news, articles and reviews that are only available in the magazine pages of Astronomy Technology Today, we are offering a 1 year magazine subscription for only $6! Or, for an even better deal, we are offering 2 years for only $9. Click here to get these deals which only will be available for a very limited time. You can also check out a free sample issue here.