The new Omegon Pro Astrographs are telescopes specifically designed for full-frame cameras, and offer high light-gathering capabilities. With the ultra-fast aperture ratio from f/2.8 to f/3.2, you can take astronomy photos with extremely short exposure times.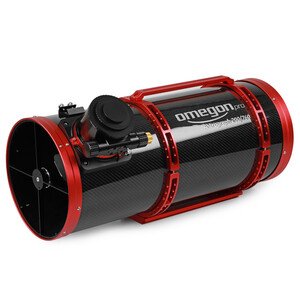 These compact and portable Newtonian astrographs has been developed for the dedicated astrophotographer who wants a powerful telescope with very good sharpness over a large field of view. The Astrograph has been developed for modern sensors with high resolution and large diameters up to full format.
These telescopes don't need to warm up, it's ready to go immediately for fast astrophotography. The 6-inch and 8-inch astrographs with f/2.8 and f/3.2 are about three times faster than a normal f/5 Newtonian telescope. This means you can take astronomical images much quicker, and minimize tracking errors.
Wide-field astrophotography is gaining ground and has a very large fan and with these telescope, you can go a step further into the detail and capture wide nebulae and create fantastic wide-field images.
With a 3-inch focuser, the built-in 3-inch corrector and a 90mm secondary mirror, the Omegon Astrograph illuminates a 44mm image circle, making it perfect for using with a full-frame, high-resolution camera. With a working distance of 55mm, you do not need any additional distance adapters for DSLR cameras. With the Omegon Telescope Pro Astrograph N200/640 OTA, you have a screen diagonal of about 3.8 degrees, with a standard full-frame sensor. This makes the California Nebula in Perseus, the Andromeda Galaxy or the area around the Veil Nebula amazing destinations.
The new Omegon Pro Astrographs have an elegant and high-quality feel. The carbon tube offers the additional advantage of stable focus, because the material is particularly thermally stable.
The Omegon 200mm f/3.2 Newtonian Astrograph highlights:
– Parabolic primary mirror with a 200mm, f/3.8 aperture
– 3″ corrector with 0.85 reduction built into the focuser
– 90mm diameter secondary mirror (minor axis) for full illumination up to full format
– Large 3″ rack and pinion focuser with reduction and M48 adapter
– Tilting possibility at the focuser
– Adjustable and stable holder for primary mirror and secondary mirror
– Fully illuminated and corrected image field of 44mm diameter
– Working distance of 55mm from the M48x0.75 thread
Omegon Astrograph with 150mm aperture at f/2.8 highlights:
– Optics optimized for astrophotography with high resolution over the entire usable field of view.
– A carbon tube for significantly improved focal stability compared to a metal tube.
– The secondary mirror is fitted with the necessary offset for a more uniform illumination of the field of view.
– Microfocusing is integrated, a necessity given the extreme f/2.8 aperture ratio.
– High-quality CNC Vixen tube clamps and a Losmandy prism rail are included in the scope of delivery
– Carrying handle with mounting surface for an accessory shoe
– Simple camera adapter using the focuser's M48x0.75 connection thread. Working distance of 55mm.
You can learn more about the Omegon Pro Astrographs here.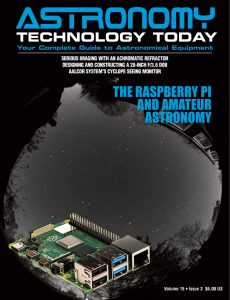 And to make it easier for you to get the most extensive news, articles and reviews that are only available in the magazine pages of Astronomy Technology Today, we are offering a 1 year magazine subscription for only $6! Or, for an even better deal, we are offering 2 years for only $9. Click here to get these deals which only will be available for a very limited time. You can also check out a free sample issue here.