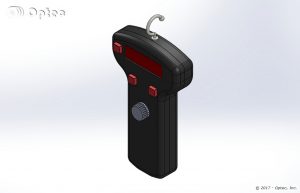 Optec has added an electronic Fine Focus Knob to its FocusLynx Hand Control for a much better experience at the telescope. With three speeds and improved response of the IN and OUT buttons, you'll find using the Hand Control much more enjoyable for visual observing.
The FocusLynx Hand Control provides an easy, vibration-free method of focusing the telescope when using the FocusLynx Control Hub.
Single-handed operation allows you to adjust focus quickly and precisely without moving your eye away from the eyepiece. If you use the FocusLynx system visual observing – and you should! – you owe it to yourself to try the new Hand Control for easy, vibration-free focusing at the telescope.
The new Hand Control is priced at $169US, and the optional Fine-Focus Knob upgrade available for previous models at $65, including the latest FLHC firmware update. Note that the upgrade requires the return of your Hand Control to Optec.
The FocusLynx Hand Control is housed in a black-anodized case fabricated from 6061 aluminum and measures 6.3 by 3.2 by 0.9 inches (160 by 81.4 by 22.7 mm) and weighs 6.4 ounces (180 grams). It has a two-line display that reports position and temperature. It features three control buttons mapped to the controller's IN, OUT and MODE functions. An embedded rotary encoder switch allows one-hand fine-focus control, with 1x, 10x and 100x settings. Connection to FocusLynx is via an RJ22 port labeled "Hand Controller."
Optec is a design and manufacturing firm specializing in electro-optical products used in astronomy, atmospheric science and microscopy.