The Orion Atlas II EQ-G Equatorial GoTo Mount is a new iteration of Orion's Atlas EQ-G mount incorporating more than a dozen enhanced features and specifications. Newly designed for greater stability and operational precision the Atlas II EQ-G offers a load capacity of 44 lbs. of astronomy gear.
Like the Atlas EQ-G, the new Orion Atlas II uses dual stepper motors with a 1.8° step angle. But unlike its predecessor, the Atlas II incorporates belt drives for quieter slewing, reduced backlash, and improved guiding accuracy. The mount's latitude adjustment has been beefed up with bigger bolts that work even with a full telescope load. The dual width saddle is compatible with both D and V style mounting plates. The equatorial head now offers a large handle to make lifting it onto and off of the tripod easier.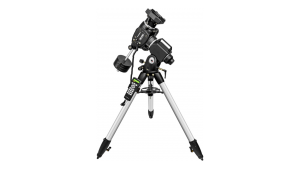 The Atlas II's drive panel offers new features as well, such as a USB port for controlling the mount via computer using optional 3rd party software. A "SNAP" port has been added to allow DSLR camera control via the SynScan hand controller for astrophotography. The 12V power cable now threads onto the jack for a more secure connection that can't pull out.
The built-in illuminated polar scope has been improved to ensure more precise polar alignment for astrophotography. It now features a finely graduated "clock face" reticle for users in the Northern Hemisphere, in keeping with many popular polar alignment apps. The reticle also has alignment stars for the constellation Octans, for use in the Southern Hemisphere. Even the polar scope's protective cover has been improved as it now slips on and secures with a single thumbscrew.
The SynScan hand controller contains a 42,900-object database (including Messier, NGC, and IC catalogs) and an array of practical features and functions, including Tour mode that takes you to the best objects currently visible in the sky, permanent periodic error correction (PPEC), pointing accuracy up to 1 arc-minute, pointing accuracy enhancement (PAE), DSLR camera control, multiple slew speeds and autoguiding rates, the ability to set slewing limits, parking, ASCOM compatibility, and a USB port for updating firmware via the internet (USB cable not included). The Atlas II has a secure, threaded power input jack; a built-in autoguider port for accurate astrophotography use; and offers 9 different slew speeds (up to 4.2° per second).
The heavy-duty tripod is equipped with 2″ extendable stainless-steel legs and an accessory tray that doubles as a tripod spreader for added rigidity. The tray holds both 1.25″ and 2″ eyepieces and accessories. Two 11.5-lb. counterweights and a 184mm counterweight shaft extension are included. Total assembled weight of mount and tripod, not including counterweights, is 56 lbs., 11.3 oz.
The Atlas II requires a power supply (sold separately) with an output voltage of 11-16V and output current of 4 amps.
Specifications for the Atlas II include:
– Weight rating: 44 lbs.
– Dovetail bar system: Yes
– Motor drive compatibility: Clock drive included
– Computerized compatibility: Go-To included
– Alignment procedure: 3-Star Alignment, 2-Star Alignment, 1-Star Alignment
– Number of objects in database: 42,000+
– Tracking rates: Sidereal, Solar and Lunar
– Motor speeds: 3.4°/sec(800x), 600x, 500x, 400x, 64x, 32x, 16x, 8x, 2x, 1.75x, 1.5x, 1.25x
– Motor type: Microstep driven stepper motors
– Power requirement: 12-volt DC – 4A (tip positive)
– PEC: Yes
– GPS: Sold separately
– Backlash compensation: Yes
– Latitude range: 3-65
– Setting circles: Yes
– Polar-axis scope: Included
– Counterweights: Two 11 lb.
– Available ports: Autoguider port
– Tripod material: Steel
– Tripod leg diameter: 2.00 in.
– Counterweight bar length: 10 in.
– Diameter of counterweight shaft: 18mm
– Height range of mount: 42.00 in. – 64.00 in.
– Weight, mount/tripod: 56.7 lbs.
– Weight, fully assembled: 79.7 lbs.
Additional included accessories include a counterweight shaft extension, 184mm length, Accessory tray, and SynScan V5 GoTo hand controller with bracket. You can learn more at Orion Telescope and Binoculars website.
And for those looking for a higher payload, iOptron has announced two new medium payload center balance mounts – the iOptron CEM70 and revolutionary CEM70G – which are a new option for the 70lb payload range.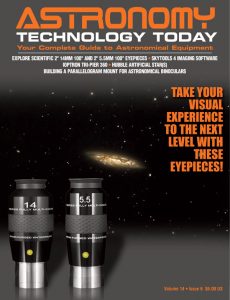 And to make it easier for you to get the most extensive telescope and amateur astronomy related news, articles and reviews that are only available in the magazine pages of Astronomy Technology Today, we are offering a 1 year subscription for only $6! Or, for an even better deal, we are offering 2 years for only $9. Click here to get these deals which only will be available for a very limited time. You can also check out a free sample issue here.