With exceptional optics, top-notch features and beautiful fit and finish, the Orion EON 115mm ED Triplet refractor telescope offers wide-field observers and astrophotographers a well-crafted, true-color instrument at a great price. Orion has updated the previous design with a more robust focuser, and streamlined the tube rings and dovetail bar.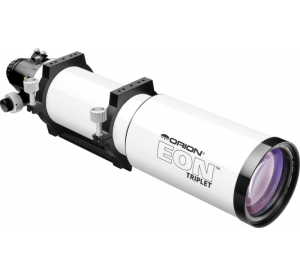 The Orion EON 115mm ED Triplet telescope offers 115mm (4.5″) aperture collecting ample light from faint deep-sky objects to provide crisp images with excellent color correction by virtue of the element of FK-61 extra-low dispersion (ED) optical glass in its air-spaced triplet objective lens.
The apochromatic refractor's medium 805mm focal length gives it a fairly fast, f/7.0 f-ratio which performs well for wide-field visual use or deep-sky astrophotography. Multilayer anti-reflection coatings on every air-to-glass lens surface maximizes light transmission; while an extendable dew shield, blackened lens edges, and multiple internal knife-edge baffles eliminate off-axis reflections and glare to ensure excellent contrast.
At the back end of the Orion EON 115mm ED Triplet, Orion is offering a new heavy-duty 2.5″ dual-speed rack-and-pinion focuser with precise 10:1 fine focus control. The focuser features an Orion finder scope base for attachment of any Orion reflex sight or finder scope.
The big focuser's 2.5″ drawtube offers an engraved millimeter scale to aid in focus point repeatability, and features a focus-lock thumbscrew, both of which are especially useful for astrophotography. Both the 2″ accessory collar on the focuser drawtube and the 1.25″ adapter feature non-marring brass compression rings, and a robust "twist-lock" style mechanism for securely clamping down onto the diagonal or camera nosepiece.
Not only is the EON 115mm ED Refractor a great wide-field performer, it's also conveniently compact and measures just 28″ with its sliding dew shield retracted for easy transport and storage in the included foam-lined hard carry case. The relatively lightweight, 15 lb. EON 115mm optical tube needs only a medium-sized equatorial mount to support it.
The telescope's finder dovetail base can also be used for optional guide scopes such as one of Orion's Mini Guide Scopes. A slip-fit metal objective lens cap, a narrow "Vixen-style" dovetail mounting bar and two heavy-duty hinged tube rings with multiple, pre-drilled and tapped holes along the top and bottom are included.
You can learn more here.